We're so glad that both you and AEON MALL Tan Phu Celadon are able to return to the "new normal", so we can see each other more often!
However, the "new normal" will also have "new notes", let's update the small rules below!
1. READY "Passport CARD"
– Green card for 02 doses of vaccine
– Yellow card 01 dose of vaccine at least 14 days
– Hospital discharge certificate (for F0 treated at the hospital)
– Certificate (for F0 home treatment)
(In order to ensure absolute safety and follow the new guidance of the local government, please do not bring children under 18 years old when coming to the Mall. We apologize for this inconvenience).
2. FULL HEALTH DECLARATION
Scan the QR code below and declare full information before entering the Mall.
3. FOLLOW THE 5K RULE
Wear a mask – Keep your distance – Disinfect regularly – Do not concentrate – Make a medical declaration.
💟 With all sincerity, we hope that we will seriously work together to ensure #safety for ourselves, family and people around when playing and shopping at AEON MALL Tan Phu Celadon.❤️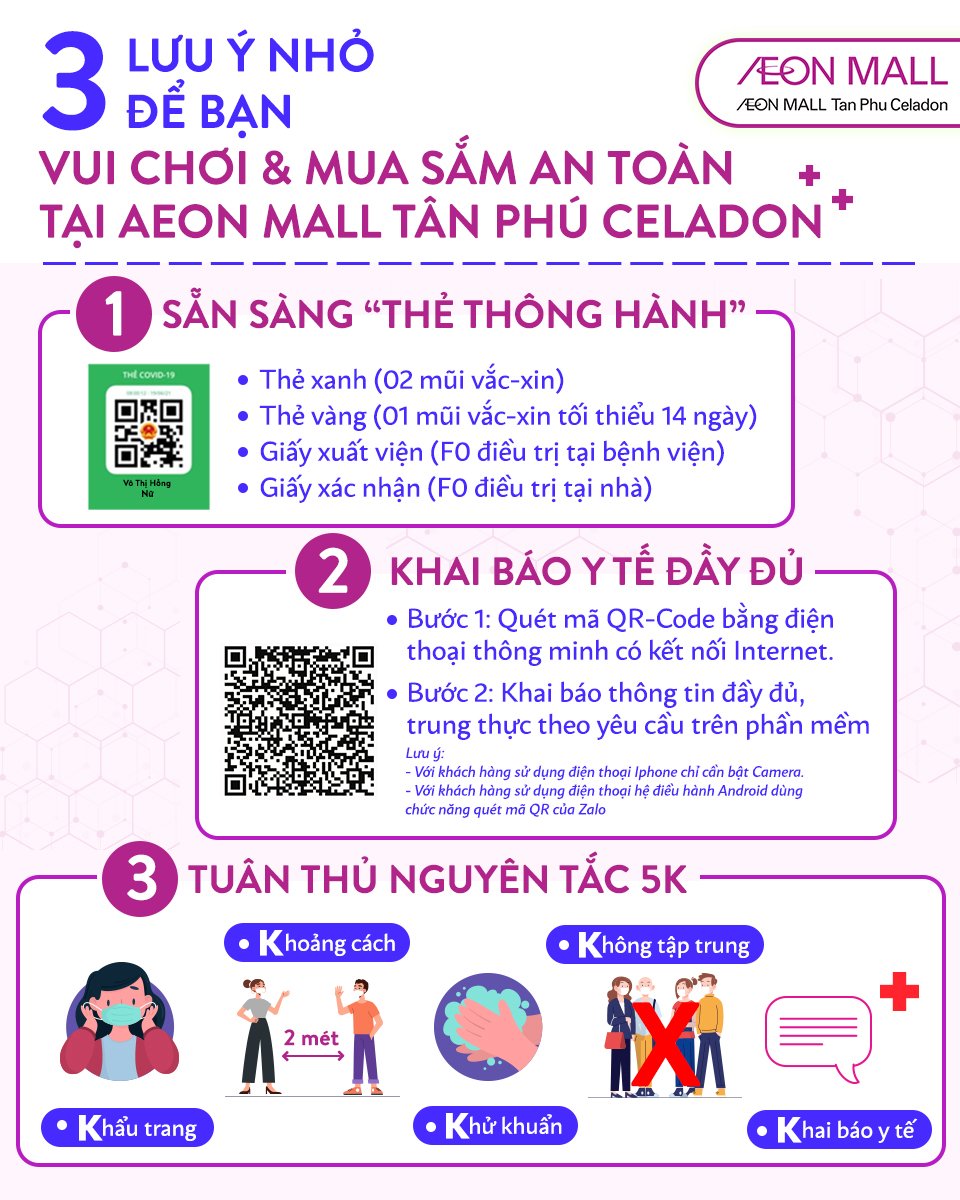 👉 iOS: http://bit.ly/AMTPCios
👉 Android: http://bit.ly/AMTPCandroid
AEON MALL Tân Phú Celadon – The ideal shopping and entertainment place
🏠 Address: No. 30 Tan Thang, Son Ky Ward, Tan Phu District, Ho Chi Minh
☎️ Hotline: 028.62.88.77.33
🌐 Website: https://aeonmall-tanphuceladon.com.vn/
👉 Fanpage: https://www.facebook.com/aeonmalltanphuceladon
📷 Instagram: instagram.com/aeonmalltanphuceladon/
💬 Zalo: http://bit.ly/zalo_amtpc