PRESS RELEASE
AEONMALL VIETNAM CO., LTD
Ho Chi Minh City, November 18th, 2022
AEON MALL Tan Phu Celadon
"Change the future – Beyond the MALL"
Known as first AEON MALLs in Vietnam opened in January 2014, AEON MALL Tan Phu Celadon is constantly developing and innovating to bring the best services to meet the shopping needs of customers with the large-scale expansion project implemented in 2019.
From 2022 until quarter 1, 2023, in order to meet the changes of the retail market in Vietnam, the increasing demand for shopping with the services and products qualifications of customers, AEON MALL Tan Phu Celadon implements a new project to create a new look with the goal to diverse products, high quality and the appearance of a series of new specialized stores, satisfying the various needs of customers.
"Change the future – Beyond the MALL", AEON MALL Tan Phu Celadon is going to have more than 20 new stores at different categories such as fashion, accessories, goods from famous domestic and international brands. Besides, customers will have more shopping experiences with new services and variety of high-quality products when coming to the stores have been upgraded and more ideal.
Highlights of AEON MALL Tan Phu Celadon after renovating
New Stores – More fun, more experiences
With more than 20 new stores from many different categories, AEON MALL Tan Phu Celadon will bring interesting shopping experiences for customers.
Everything on AEONMALL Vietnam App – Better shopping day
Customers will find everything at AEONMALL Vietnam App as hot promotion, special vouchers and many attractive events, activities only at AEON MALL Tan Phu Celadon.
"Give and Receive room" – A place to spread happiness
With the goal of becoming a "MALL of health and smile", eliminating tobacco smoke in the shopping area, AEON MALL Tan Phu Celadon closed all smoking rooms and gradually changed into better purposes. Our first action is "Give and Receive Room", next to Gate K, in order to spread happiness through the criterion of giving and receiving.
E- Locker – Save time and get safety
E-locker will help customers have comfortable shopping day by keeping the belongings with automatic technology.
>> Announcement: In order to raise the community awareness, protect the surrounding environment and everyone's health, all smoking rooms are closed, if customers have a need to smoke, please move to the outdoor area. Thank you!
>> AEON MALLTan Phu Celadon "Change the future – Beyond the MALL" <<
Aiming to build a shopping center for the Community – Healthy – Lifestyle Designer, AEON MALL Tan Phu Celadon is a meeting point for entertainment, fashion and cuisine for all ages in Ho Chi Minh City.
ELECTRONICS, HOME APPLIANCES AND INTERIOR DECORATION
ENTERTAINMENT, RELAX AND SHOPPING ALL DAY
AEONMALL VIETNAM APP – ECONOMICAL, SAFE, CONVENIENT
"AEON MALL Vietnam Reward" program
GIVE AND RECCEIVE ROOM – A PLACE TO SPREAD AWARENESS
E-LOCKER – MORE CONVENIENCE, MORE SAFETY
| | | | |
| --- | --- | --- | --- |
| | NEW STORES | RENEWED STORES | TOTAL |
| Opened | 13 | 8 | 21 |
| Opening until the end of this year | 9 | 4 | 13 |
| Opening in the spring of 2023 | 1 | 0 | 1 |
ABOUT AEONMALL TAN PHU CELADON
Name
AEON MALL Tan Phu Celadon
Address
30 Tan Thang Street, Son Ky Ward, Tan Phu District, HCMC
Telephone
aeonmall-tanphuceladon.com.vn
Website
Mr. Yoshio Harada – General Manager
Administer
200
Quantity of stores
Up to 80,000㎡
Land area
About 116,000㎡
Floor area
About 81,000㎡
Leasing area
Capacity of about 2,000 cars and 10,000 motorcycles
Parking
Shopping Center
Operation time
Weekdays: 10:00 ~ 22:00
Weekends & Holidays: 9:00 ~ 22:00
Cinema: 8:00 ~ 2:00 next day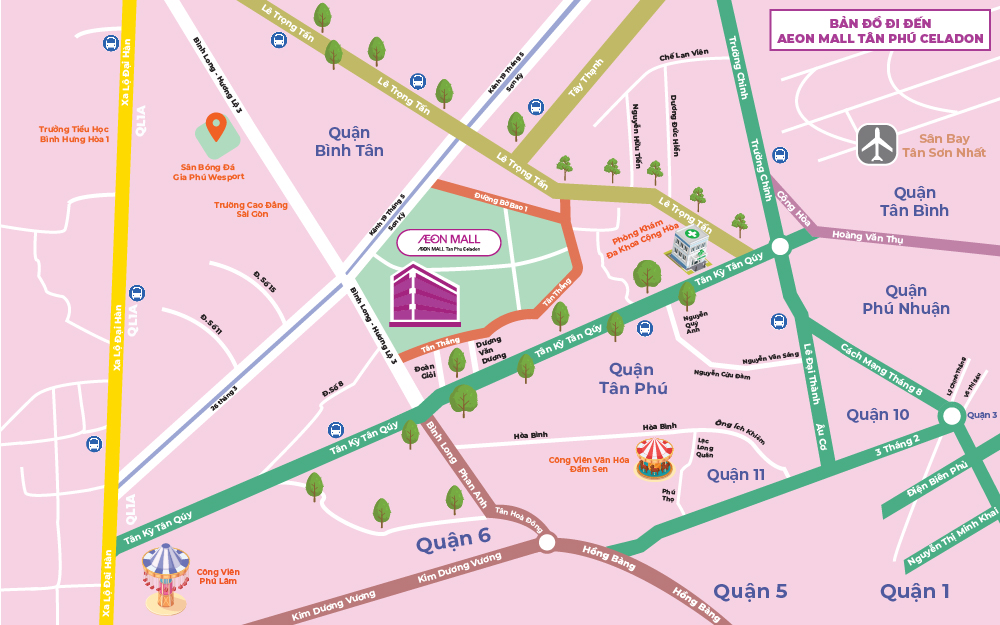 Number of new stores: 23
Number of renewed stores: 12
Total: 35
NEW STORES
#
FLOOR
STORE
CATEGORY
OPENING
1
GF
Loc Phuc Jewelry
Apparel
November
2
GF
Digibox
General store
November
3
GF
Dyson
General store
Update later
4
GF
Dairy Queen
Food and drink
June
5
GF
Westway
Service
March
6
GF
Starbucks
Food and drink
April
7
GF
Bonchon
Food and drink
March
8
1F
Routine
Clothing
November
9
1F
Isushi
Food and drink
November
10
1F
Manwah
Food and drink
November
11
1F
Kpub
Food and drink
November
12
1F
BOO
Clothing
September
13
1F
Đông Hải
Apparel
March
14
1F
TvWorld
Food and drink
January
15
2F
Miniso
General store
November
16
2F
NShop
General store
November
17
2F
Cleverbox
General store
November
18
2F
Inochi
General store
August
19
2F
Wundertute
General store
November
20
2F
Kangaroo
General store
Update later
21
2F
Pot & Food
Food and drink
October
22
2F
Thai Ngon Ngon
Food and drink
March
23
3F
Jiang Hu
Food and drink
January
RENEWED STORES
1
GF
Hurom Juice
Food and drink
September
2
1F
Colorbox
Clothing
October
3
1F
The Blues
Clothing
November
4
1F
iBasic
Clothing
September
5
1F
Lime Orange
Clothing
August
6
1F
Umbrella
Clothing
Update later
7
1F
Olv
Clothing
July
8
1F
Fancy Time
Apparel
October
9
2F
Timezone
Entertainment
November
10
2F
Look Kool
General store
March
11
2F
Crocs
Clothing
November
12
3F
Chang Kang Kung
Food and drink
October
———————
App download link:
– iOS: http://bit.ly/AMTPCios
– Android: http://bit.ly/AMTPCandroid
———————
All only at AEON MALL Tan Phu Celadon – The ideal shopping and entertainment place
– Address: No. 30 Tan Thang, Son Ky Ward, Tan Phu District, Ho Chi Minh City
– Hotline: 028.62.88.77.33
– Website: https://aeonmall-tanphuceladon.com.vn/
– Fanpage: https://www.facebook.com/aeonmalltanphuceladon/
– Instagram: instagram.com/aeonmalltanphuceladon/
NN ĐƯỜNG THỜI TRANG