The average global temperature on Earth has increased nowadays and one of the most important causes of this situation is the excessive use of plastic products. Statistics show that more than 1 million plastic bags are used every minute around the world.
While plastic waste takes about 400 to 1000 years to decompose, the amount of plastic used around the world still shows no sign of diminishing. Accordingly, the impacts of plastic waste on the environment are becoming more and more serious, which includes:
More than 730,000 tons of plastic waste is discharged to the sea every year
90% of ocean waste comes from plastic
There were a total of 270 marine species that swallowed plastic waste
60% of the world's 4,000 coral reefs may disappear in the next three decades
The warming of seawater has made marine species flee from their own habitats
These alarming figures have rung a worldwide wake-up call. Today, there are many campaigns and measures to reduce plastic spread out with the main purpose of minimizing plastic consumption to protect the environment.
Therefore, with the desire to join the campaign of protecting the Earth from plastic waste, from July 5th to Dec 20th, 2019, AEON MALL Tan Phu Celadon brings out these practical and meaningful environmental protection programs as follows:
Offering eco-friendly Eco Bag bags on 5th & 20th
"Say no to plastic straws" program at Foodcourt area – 2nd floor AEON MALL Tan Phu Celadon.
Decorating garbage-sorting bins to provide customers with useful information about the world environment day, as well as encourage everyone to participate in the campaign "Anti-plastic waste".
Especially, AEON MALL Tan Phu Celadon also implements  a project to collect & recycle plastic waste including the following process:
Step 1: Sort and store plastic waste
Step 2: Transfer plastic waste from warehouse to intermediate factory
Step 3: Conduct plastic waste treatment: Cut into small pieces à Clean à Dry into PET plastic slabs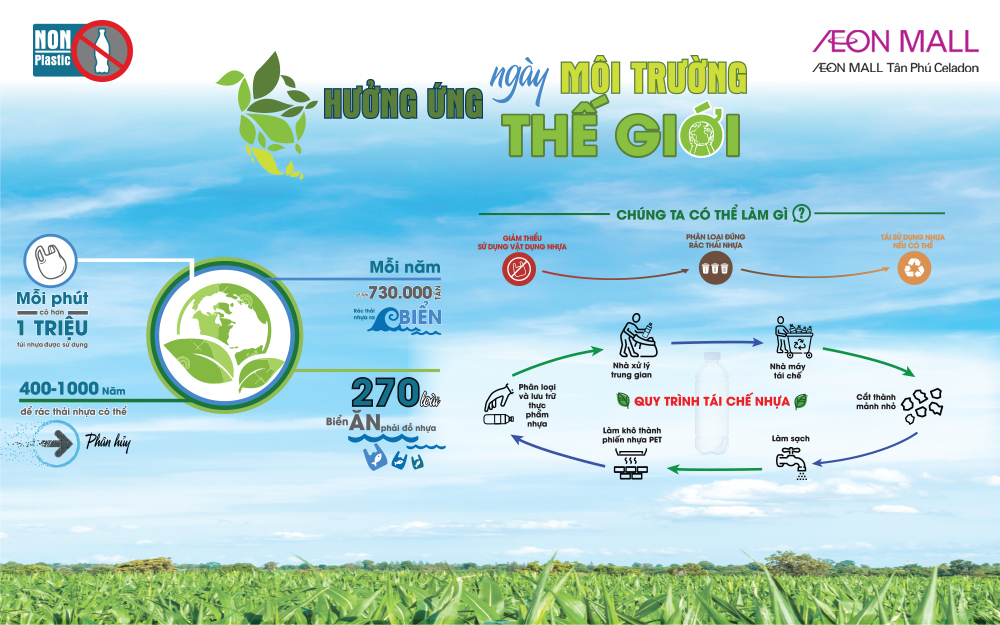 This is a repeated sequential process to make PET plastic slabs – a thermoplastic polymer with a high capacity of waterproofing and mechanical strength, which is widely used in pure water bottles & pitchers, carbonated drinks, plastic food containers, clothing and engineering resins production.
In addition, customers can also participate in the campaign to protect the environment in general and the ocean environment in particular by extremely simple measures such as restricting the use of plastic products, properly classifying plastic waste, reuse plastic if possible, etc.
The Earth needs actions from everyone to keep our own living environment green, clean and beautiful. Thus, please join with AEON MALL Tan Phu Celadon to respond to the World Environment Day and limit plastic waste from today!