Good news for beloved customers at AEON MALL Tan Phu Celadon!
Following to Resolution 406/NQ-UBTVQH15 on tax exemption and reduction in 2021 of the National Assembly Standing Committee, some stores at AEON MALL Tan Phu Celadon adjusted VAT REDUCTION ON EACH PRODUCT FROM 10% TO 7% .
Application period: November 1, 2021 – December 31, 2021
List of applicable stores: PEPPER LUNCH, KFC, TEXAS CHICKEN, KING BBQ, MARUKAME UDON, HOTPOT STORY, KHAO LAO, KICHI KICHI, GOGI HOUSE, HIGHLANDS COFFEE, USHI MANIA, AL FRESCOS, HUROM JUICE CAFE, SUSHI KEI, MK RESTAURANT, CRYSTAL JADE, HUTONG, LE MONDE STEAK
It's really attractive, isn't it? Hurry up and come to AEON MALL Tan Phu Celadon to enjoy great deals!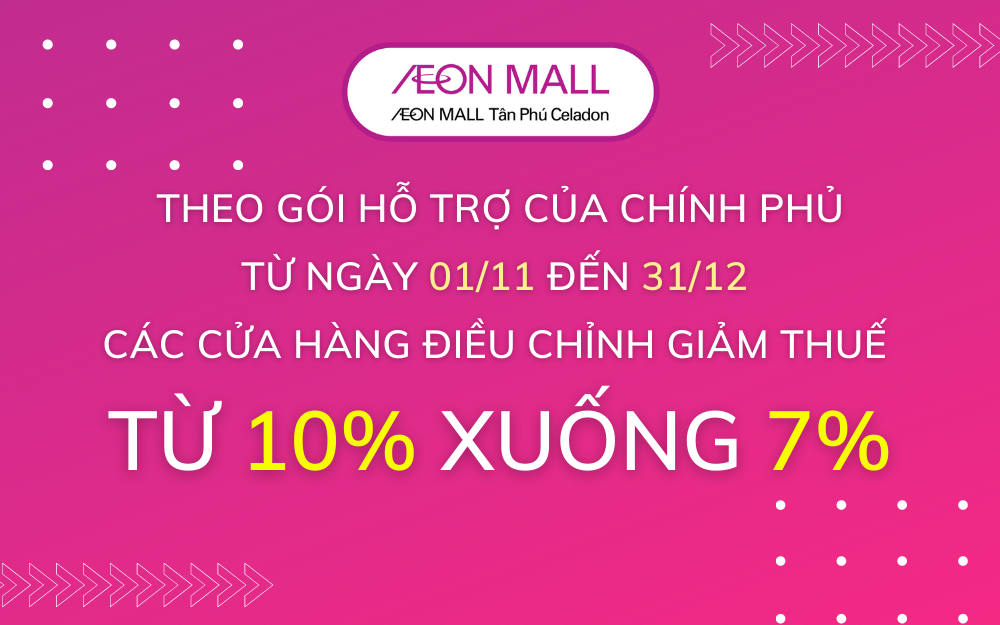 #AEONMALLTanPhuCeladon
​​ —————
App download link:
iOS: http://bit.ly/AMTPCios
Android: http://bit.ly/AMTPCandroid
—————
All only at AEON MALL Tan Phu Celadon – The ideal shopping and entertainment place
Address: No. 30 Tan Thang, Son Ky Ward, Tan Phu District, Ho Chi Minh City
Hotline: 028.62.88.77.33
Website: https://aeonmall-tanphuceladon.com.vn/
Fanpage: https://www.facebook.com/aeonmalltanphuceladon/
Instagram: instagram.com/aeonmalltanphuceladon/
Zalo: http://bit.ly/zalo_amtpc