Have you made plans for Halloween in October yet? If not, let TAPU introduce you to a mystical world making its debut in Ho Chi Minh City.
Featuring the captivating presence of ancient, long-necked herbivorous dinosaurs, as well as the fierce T-Rex, TAPU promises to satisfy your curiosity, sense of wonder, and love for all things intriguing.
All of this will take place from October 7th to October 31st, 2023, at the West Court, Ground Floor, AEON MALL Tân Phú Celadon.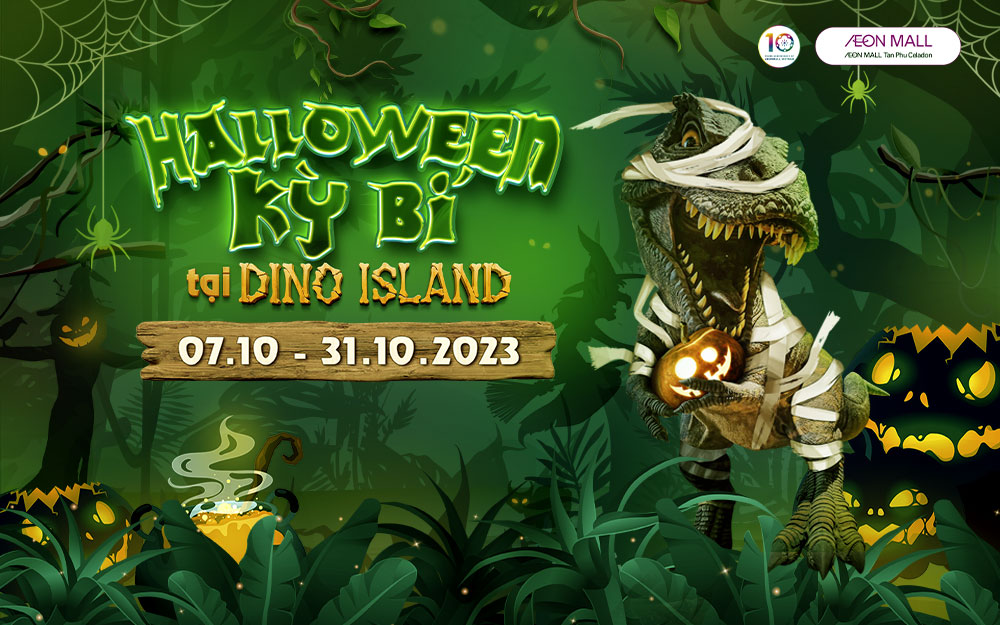 But that's not all! For Halloween, TAPU has some special treats in store for you:
With every purchase totalling 4,000,000 VND, you'll receive a state-of-the-art LocknLock food processor – a smart "companion" for preparing delicious meals.
Especially for Gamuda residents shopping at AEON MALL Tân Phú Celadon, with a purchase of 4,000,000 VND or more, TAPU will gift you a complimentary DINO ISLAND tour ticket worth 150,000 VND upon presentation of your resident card.
To add more excitement to this series of events, TAPU invites you, the Dinosaurs, and other mysterious friends to AEON MALL Tân Phu Celadon for parades every Saturday evening (October 7th, 14th, 21st, and 28th) and on Halloween itself, October 31st. Mark your calendars to join the parade with TAPU and explore the world of costumes!
Don't forget, on the night of October 31st, there will be thrilling live performances and entertainment exclusive to AEON MALL Tân Phú Celadon.
We can't wait to see you there!
Terms and Conditions:
This promotion is valid for customers with cumulative receipts on the same day who have the AEONMALL Vietnam app. It does not apply to purchases in the supermarket and AEON shopping centre (Glam Beautique, AEON Wellness, Petemo, AEON Bike, Garden Terrace & Daiso).
Dino Island tickets can be used to explore Dinosaur Island at Sảnh Tây AEON MALL Tân Phú Celadon from September 14th to November 5th, 2023.
This promotion cannot be combined with other promotions.
Each customer can receive a maximum of one gift.
Customers are required to bring the product or receipt/ID for the products and services when exchanging gifts.
The management reserves the right to refuse invalid receipts.