AEON MALL Tan Phu Celadon would like to inform: The promotion program for customers paying by Napas card has ended before the deadline due to the limit of the promotional code.
AEON MALL Tan Phu Celadon would like to thank you for your support of the program and hope to continue to receive your support in the upcoming programs.
In addition, AEON MALL Tan Phu Celadon still has a lot of amazing events and programs going on and waiting for you to join:
Sales event SALE up to 70% off at East Court, Square Center, SC02, SC03
Jackpot lottery program with 100% chance to win many attractive gifts with bill from 3,000,000 VND on November 23 – 27, 2022
Livestream with hot deals and gifts at 19:00 on November 25, 2022
See program details right here so you don't miss out.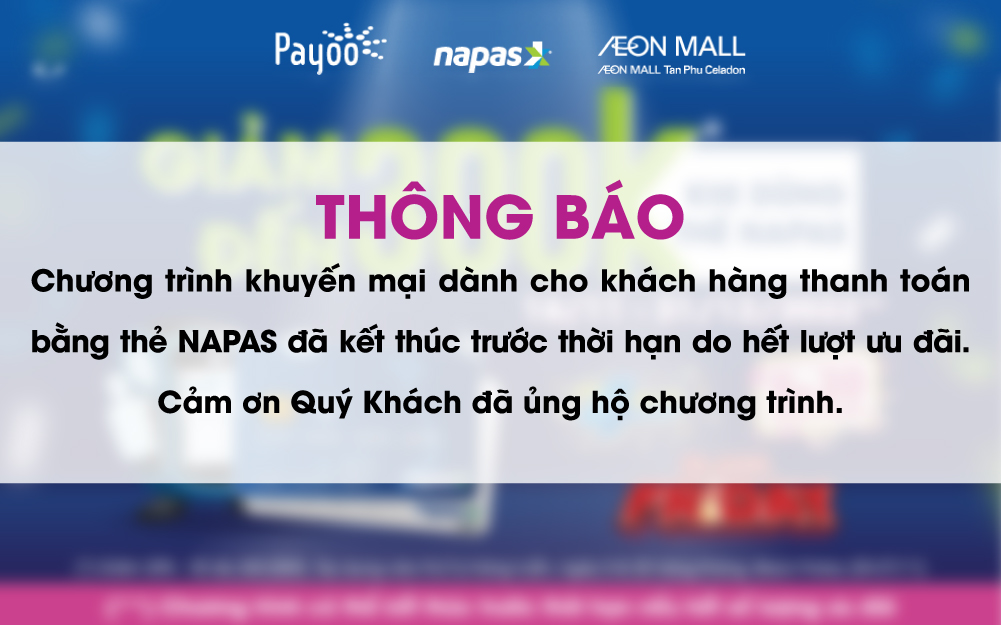 —
NO LYING, OFFER 300,000 vnd IS REAL!
Come to AEON MALL Tan Phu Celadon now to get 30% off – up to 300,000 VND – when paying with NAPAS domestic payment cards on POS Payoo machines at applied stores in the shopping mall.
The program applies to:
Wednesday and MEMBERSHIP DAY 5&20 of every month: 16/11 – 31/12/2022
BLACK FRIDAY: 25,26,27/11/2022
Unexpectedly, with so many offers, quickly record your calendar to come to AEON MALL Tan Phu Celadon right away to "catch up and down" to get thousands of offers!
It's so attractive, come quickly or you'll run out of codes!
(*) The program may end before the deadline.
———————
App download link:
– iOS: http://bit.ly/AMTPCios
– Android: http://bit.ly/AMTPCandroid
———————
All only at AEON MALL Tan Phu Celadon – The ideal shopping and entertainment place
– Address: No. 30 Tan Thang, Son Ky Ward, Tan Phu District, Ho Chi Minh City
– Hotline: 028.62.88.77.33
– Website: https://aeonmall-tanphuceladon.com.vn/
– Fanpage: https://www.facebook.com/aeonmalltanphuceladon/
– Instagram: instagram.com/aeonmalltanphuceladon/
– Zalo: http://bit.ly/zalo_amtpc