In this June, the biggest offline event of AIESEC in the South will officially take place at AEON MALL Tan Phu Celadon. Carrying on the mission of developing leadership potential in young people, this will definitely be a "great inspiration" space – where young people can raise their voices, where they can "MOVE POSITIVE" pole – BREAKING POTENTIAL"
After nearly a long year of absence, YouthSpeak 2022 has returned with the theme "GEN Z AND THE WORLD OF WORK AFTER THE PASSION". And with the theme "POSTICAL MOVEMENT – BREAKING POTENTIAL" of YouthSpeak Forum in the South, we want young people to understand, utilize and express their self-worth to achieve their own success right away. from the early years of his career.
Not only that, YouthSpeak Forum in the South wishes to accompany Generation Z to create a space where young people can voice their doubts about the definition of fit in the recruitment process. businesses as well as understand market trends to better orient and develop themselves. Through this, employers will better understand the problems of young people, share their perspectives from the business side, and at the same time suggest more potential options for young people.
YouthSpeak Forum Southern believes that, with this theme, young leaders will together create positive movements, breakthrough their potential, and directly contribute to the continuous development of the society. festival.
📌 GENERAL INFORMATION ABOUT THE PROGRAM:
Information handbook: https://tinyurl.com/YouthSpeakForumSouth-booklet
➤ Time: 8AM – 6PM, Sunday, June 19, 2022
➤ Location: AEON MALL Tan Phu Celadon
➤ Fare policy: https://bit.ly/YSFfeepolicy
➤ Registration deadline: 12:00, Friday, June 17, 2022
➤ Group for general information: https://www.facebook.com/groups/3933379673391065/
➤ You asked – Yut answered the form: https://tinyurl.com/BanhoiYuttraloi
📌 WHAT ARE KEY ACTIVITIES OF THE PROGRAM?
Inspirational space
Discussion space
Workshop series equipping skills
YouthSpeak Competition Final Round 2022
Space for action, presentation of ideas
📌 WHAT WILL THE SOUTH CHILDREN GET?
Coming to YouthSpeak Forum in the South, through the above series of activities, you will have the opportunity to:
Talk about your thoughts, questions and concerns about the recruitment process and employment trends after the pandemic.
Meet employers with real career information.
Exchange and expand relationships with young people with the same orientation.
Connect with professional speakers with many years of experience, big businesses like Lazada, Mondelez, Baemin, Colgate,… to understand more about the job market.
Listen to the sharing of "real people" from enthusiastic KOLs with inspirational and motivational stories for young people,…
Certificate from AIESEC in Vietnam and many surprises are waiting for you on June 19th.
The set of 6 COMMUNICATION AGENTS will accompany us throughout the journey to find the leadership value in ourselves and move to break through: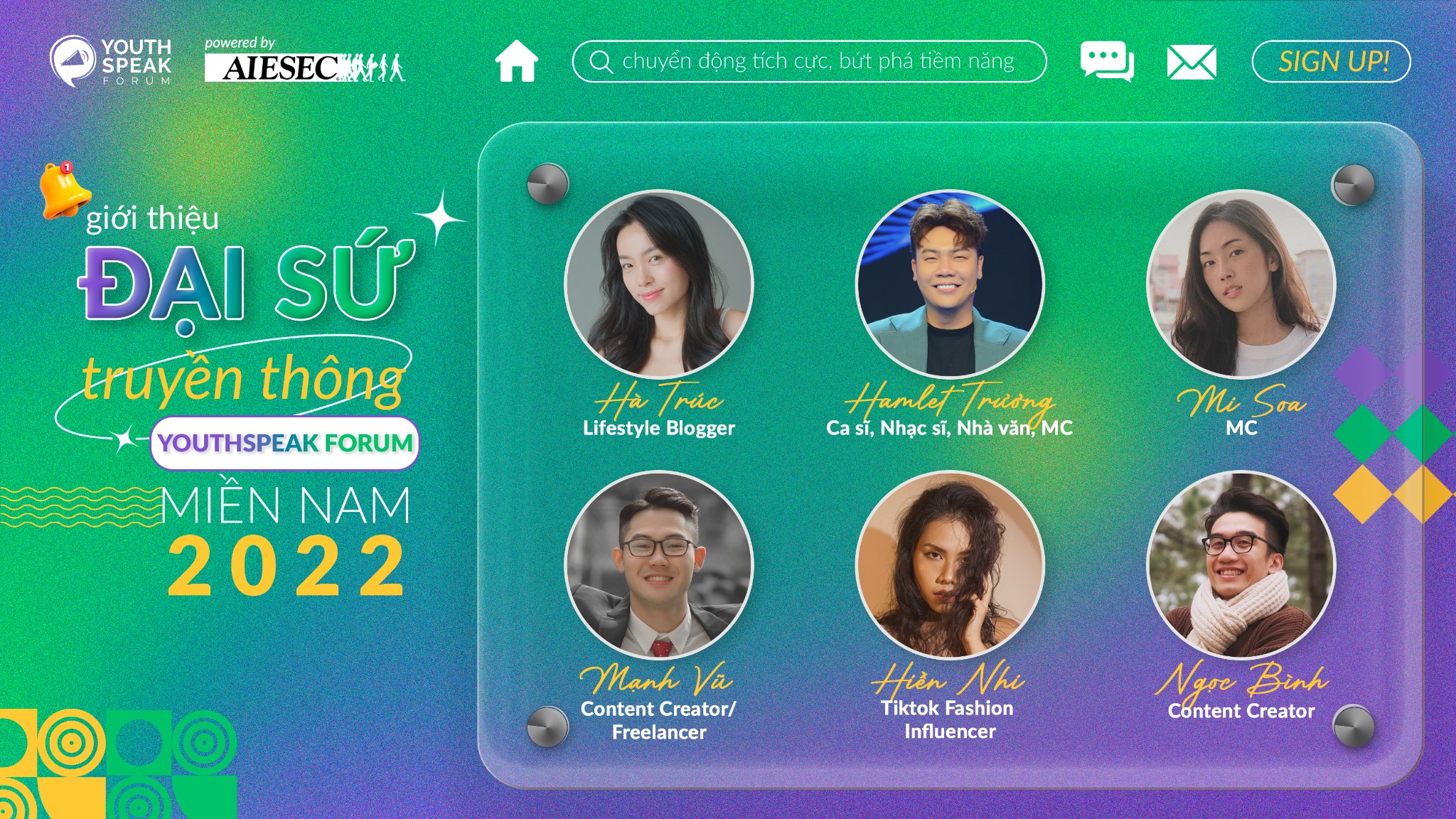 ➤ Ms. Nguyen Hien Nhi – TikTok Fashion Influencer
➤ Ms. Le Ha Truc – Lifestyle Blogger
➤ Brother Hamlet Truong – Singer, Musician, Writer, MC
➤ Miss Misoa – MC
➤ Mr. Dinh Ngoc Binh – Content Creator
➤ Mr. Manh Vu – Content Creator/ Freelancer
Together "POSITIVE MOVEMENT, BREAKING POTENTIAL" TODAY: https://tinyurl.com/YSFSouth2022-5
#AEONMALLTanPhuCeladon 
———————
App download link:
iOS: http://bit.ly/AMTPCios
Android: http://bit.ly/AMTPCandroid
———————
All only at AEON MALL Tan Phu Celadon – The ideal shopping and entertainment place
Address: No. 30 Tan Thang, Son Ky Ward, Tan Phu District, Ho Chi Minh City
Hotline: 028.62.88.77.33
Website: https://aeonmall-tanphuceladon.com.vn/
Fanpage: https://www.facebook.com/aeonmalltanphuceladon/
Instagram: instagram.com/aeonmalltanphuceladon/
Zalo: http://bit.ly/zalo_amtpc