Hey sales hunters, the hottest deal season of the year has come. We are ready to fight. Now, let's surf with TAPU the extremely attractive programs that are waiting for us. 
Besides wanting a lot of super cool offers from the booths at AEON MALL Tan Phu Celadon, customers can also own extremely heavy-handed gift bags right at the SALE fever taking place from November 23rd ~ 27th at the Square Center: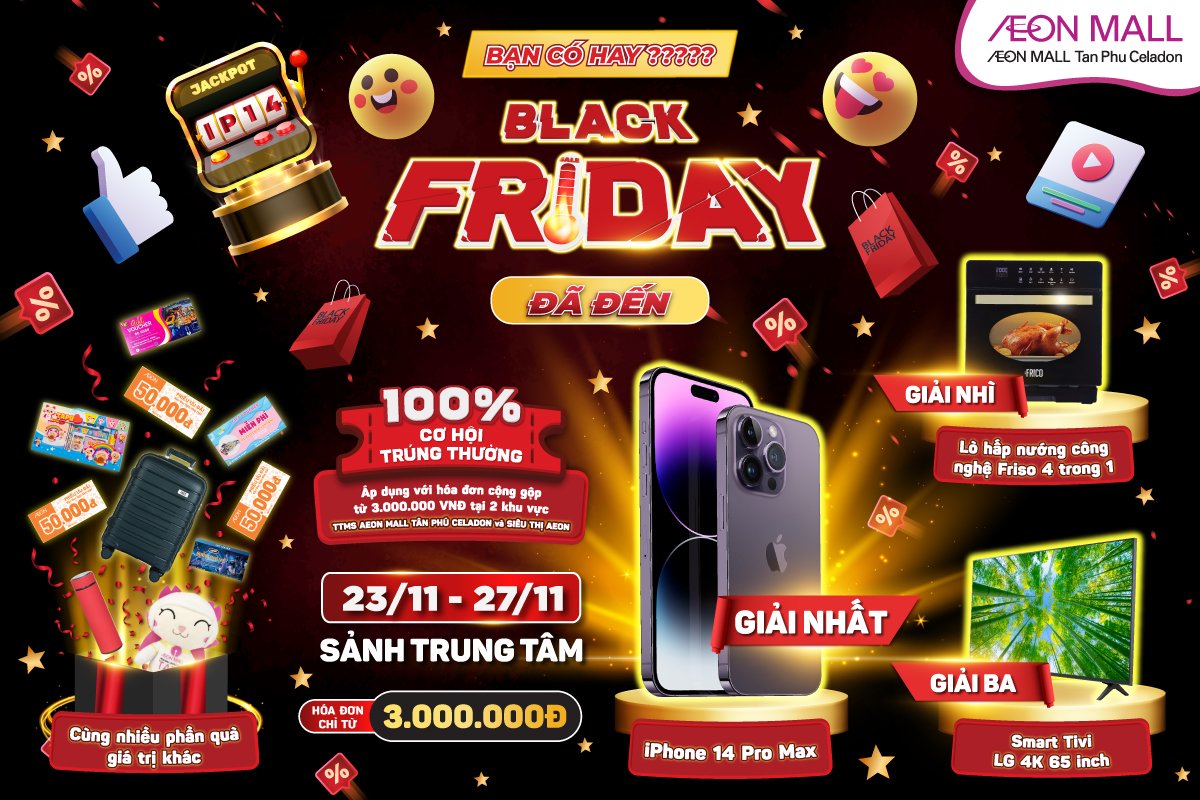 With the combined bill of 2 areas of AEON Supermarket and AEON MALL Tan Phu Celadon from 3,000,000 VND or more, customers will be able to participate in a 100% jackpot lottery to receive gifts such as travel suitcases, mini TAPU teddy bears, etc. and other attractive gifts. 
More specifically, in the race to hunt for super sales and receive gifts, customers also have the opportunity to receive EXTREMELY HOT gifts such as: 
First prize: iPhone 14 Promax 256GB 
Second prize: Frico 4-in-1 technology steam oven 
Third Prize: 65-inch LG Smart TV 
And that's not all, dear customers, Black Friday, it's impossible to ignore the battle to hunt down the reduced price of the live stream sale, and also apply for hot promotions. Note the most anticipated live stream schedule in 2022 
Time: 19:00 on November 25th, 2022 
Location: Live stream at AEON MALL Tan Phu Celadon fan page 
In addition, the sale fair is also waiting for our beloved customers, let's check-in now: 
From November 18 to November 27, 2022 at the Central lobby, SC02. SC03 
From November 19 to November 27, 2022 at the East Hall 
What's more, customers who have participated in the shopping program to accumulate coins on the AEON MALL Vietnam app and choose their favorite AEON MALL Tan Phu Celadon, will receive double coins from November 23rd ~ 27th 
Nonstop at all, this Black Friday must go to AEON MALL Tan Phu Celadon if you are a big fan of Golden Gate restaurant system, a series of restaurants like KPub, Manwah, and iSushi are ready to welcome guests. Not only that, there are many other new stores like Boo, Inochi, nShop, etc. already present at AEON MALL Tan Phu Celadon. 
Black Friday at AEON MALL Tan Phu Celadon is always there. Set a schedule to come to the MALL to hunt for attractive bargains. 
———————
App download link:
– iOS: http://bit.ly/AMTPCios
– Android: http://bit.ly/AMTPCandroid
———————
All only at AEON MALL Tan Phu Celadon – The ideal shopping and entertainment place
– Address: No. 30 Tan Thang, Son Ky Ward, Tan Phu District, Ho Chi Minh City
– Hotline: 028.62.88.77.33
– Website: https://aeonmall-tanphuceladon.com.vn/
– Fanpage: https://www.facebook.com/aeonmalltanphuceladon/
– Instagram: instagram.com/aeonmalltanphuceladon/
– Zalo: http://bit.ly/zalo_amtpc