The Blood Donation Activity "GIOT HONG GAN KET – CHIA SE YEU THUONG" once again comes back to receive more and more loving kindness from donor.
Registration period: 08.06 – 06.07.2023
Event time: 29.06.2023 & 07.07.2023 
Location: AEON HALL – 3rd floor, AEON MALL Tan Phu Celadon.
After blood donation, each customer will immediately receive a "Donation Card" to receive a gratitude gift from AEON MALL Tan Phu Celadon!
To ensure the 5K principle and the safety of you and your family, please register to donate blood by following the steps below:
Step 1: Download AEONMALL Vietnam App
Step 2: On the menu bar below, select "AEON MALL STYLE" then go to the "JOIN EVENT" feature
Step 3: Click to join the event "Blood Donation" and fill in your personal information
Step 4: View the note and save the Blood Donation Date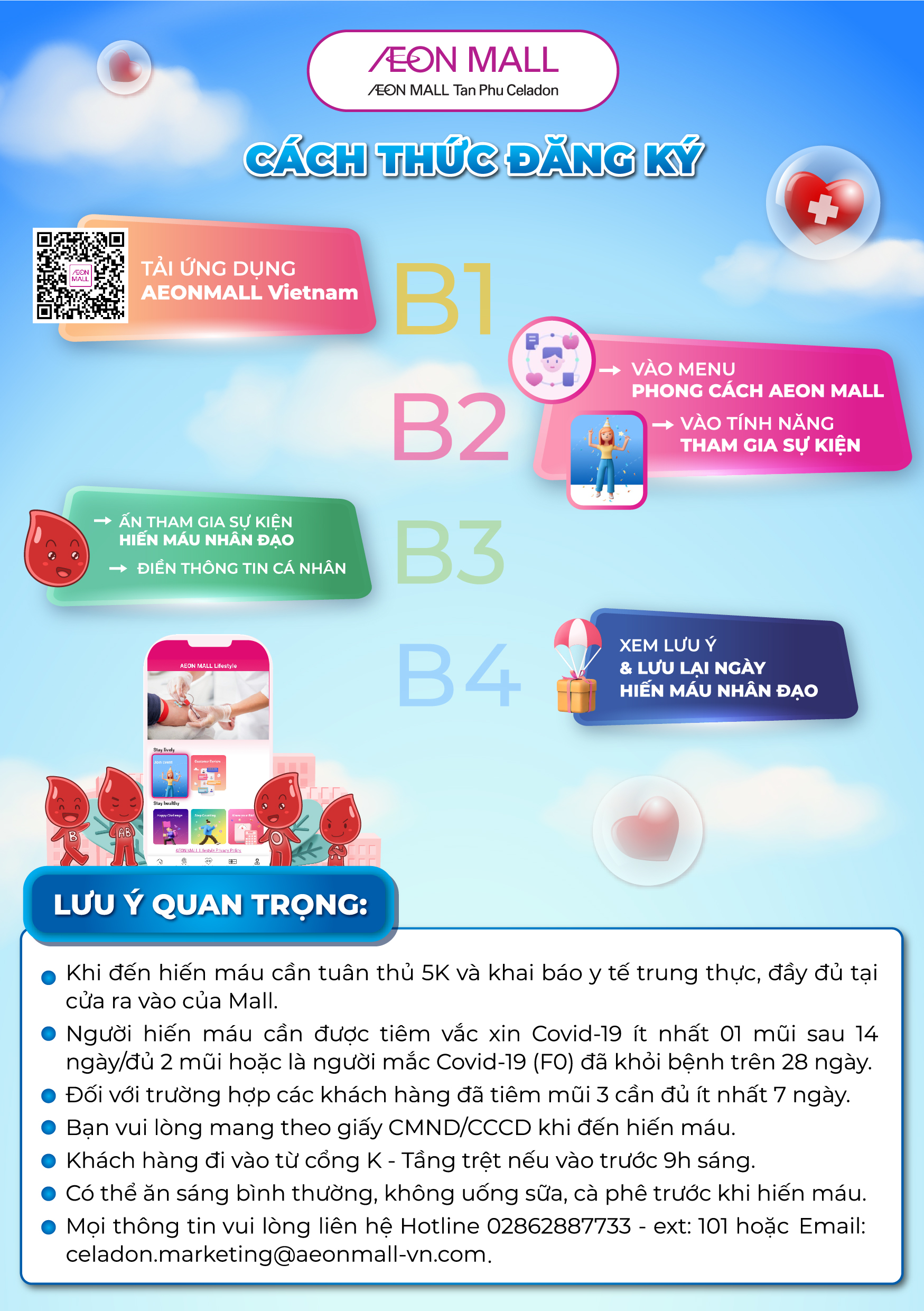 —
NOTES:
When coming to donate blood, it is necessary to comply with 5K and make an honest and complete medical declaration at the entrance of the Mall.

Blood donors need to receive at least 1 dose of the Covid-19 vaccine after 14 days / 2 doses, or people with Covid-19 (F0) who have recovered from the disease for more than 28 days.

For customers who have had 3 injections, at least 7 days are needed.

Please bring your ID when you come to donate blood.

The night before the blood donation day, do not stay up too late, and do not drink alcohol.

You can eat and drink normally, but do not drink milk or coffee before donating blood.

If you need to support other information, you can contact Fanpage AEON MALL Tan Phu Celadon for detailed answers!
#AEONMALLTanPhuCeladon #BloodDonation
———————
App download link:
iOS: http://bit.ly/AMTPCios
Android: http://bit.ly/AMTPCandroid
———————
All only at AEON MALL Tan Phu Celadon – The ideal shopping and entertainment place
Address: No. 30 Tan Thang, Son Ky Ward, Tan Phu District, Ho Chi Minh City
Hotline: 028.62.88.77.33
Website: https://aeonmall-tanphuceladon.com.vn/
Fanpage: https://www.facebook.com/aeonmalltanphuceladon/
Instagram: instagram.com/aeonmalltanphuceladon/
Zalo: http://bit.ly/zalo_amtpc