Are you a " top fan" of AEON MALL Tan Phu Celadon? Then you will not have to wait any longer to receive the "big deal" from AEON Member's Day this time!
In particular, customers owning an AEON Membership Card when shopping at AEON MALL Tan Phu Celadon Shopping Center on the 5th & 20th of every month will receive 01 point for each bill from VND 1,000,000. Collect all 3 points and you will get 01 extremely high-class Minh Long nourishing bowl to bring home!
The program will take place from July 5th until December 20th, 2021.
>>> Note: Please come to Information Counter at D Gate (Ground floor) to redeem points. Each customer can earn maximum 2 points per day.
Especially, many of you probably already know that on the Member's Day every month, not only the Supermarket area offers discounts, but many stores of AEON MALL Tan Phu Celadon Shopping Center are having really good & special offers. What are you waiting for without discovering the details here?!
Just collect enough 3 points and you'll get extremely attractive gifts fly to your pocket, let's hurry up everyone!!!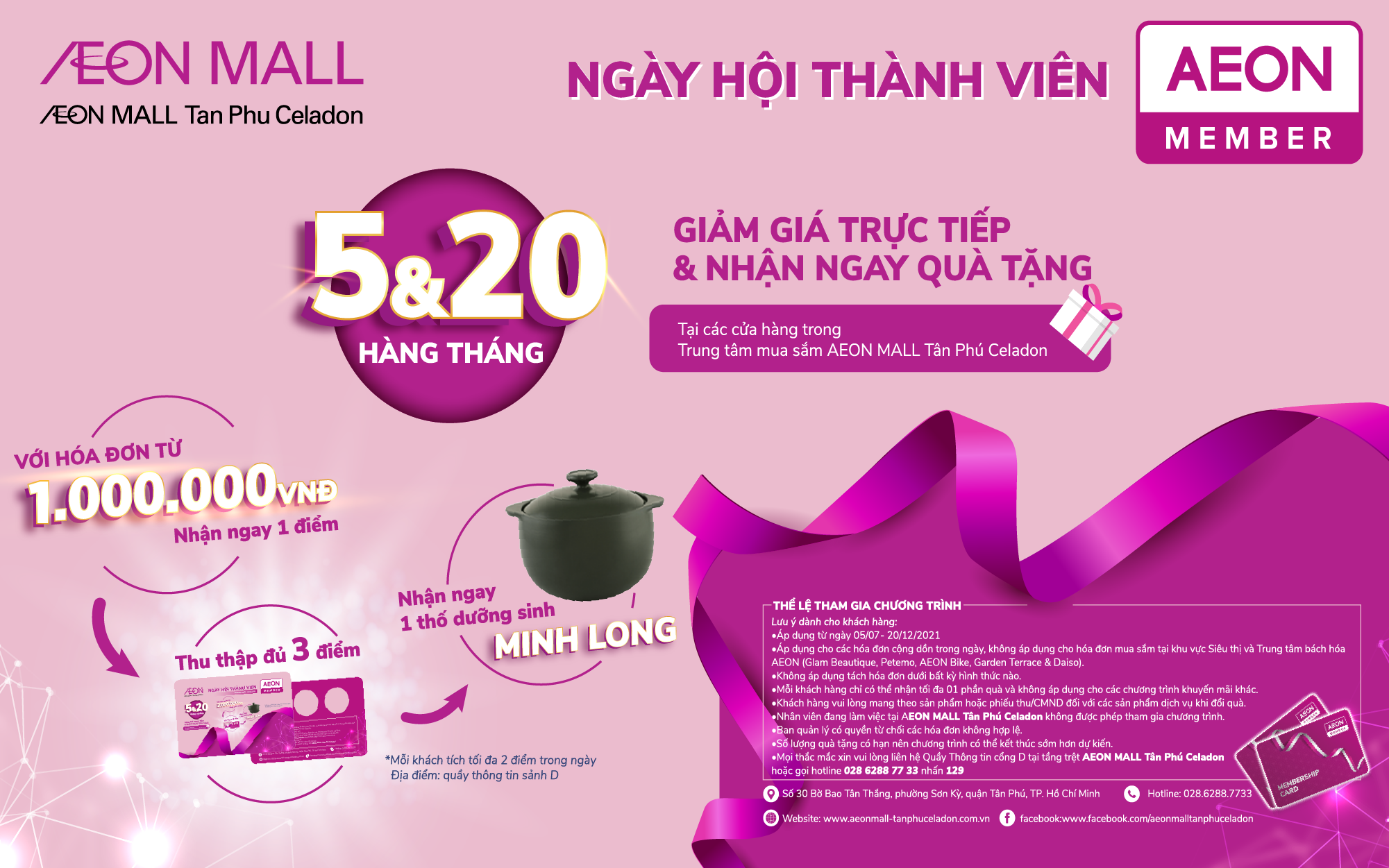 *Terms & conditions:
Applicable to cumulative invoices during the day, not applicable to shopping invoices in the AEON Supermarket and Department Store area (including Glam Beautique, Petemo, AEON Bike, Garden Terrace & Daiso).
Do not accept split invoices in any form.
Each customer can only receive up to 01 gift and does not apply to other promotions.
Customers please bring products or receipts/ ID cards for products that are services when exchanging gifts.
Staff working at AEON MALL Tan Phu Celadon are not allowed to join the program.
The management board has the right to refuse invalid invoices.
The number of gifts is limited, thus the program may end sooner than expected.
Any questions please contact Customer Information Counter at D Gate – Ground floor AEON MALL Tan Phu Celadon or hotline 028 6288 77 33 ext 129.