Have you prepared anything for the journey to explore the moon with Tapu yet?
Tapu hears that AEON MALL Tan Phu Celadon this period is preparing extremely many "bloody" and interesting activities to welcome the Mid-Autumn Festival 2022!
Don't forget to open the calendar and "note" right away the "schedule" from 𝟏𝟐/𝟎𝟖/𝟐𝟎𝟐𝟐 – 𝟏𝟏/𝟎𝟗/𝟐𝟎𝟐𝟐!
Just listening to it makes me feel anxious, remember to stop by and play with Tapu.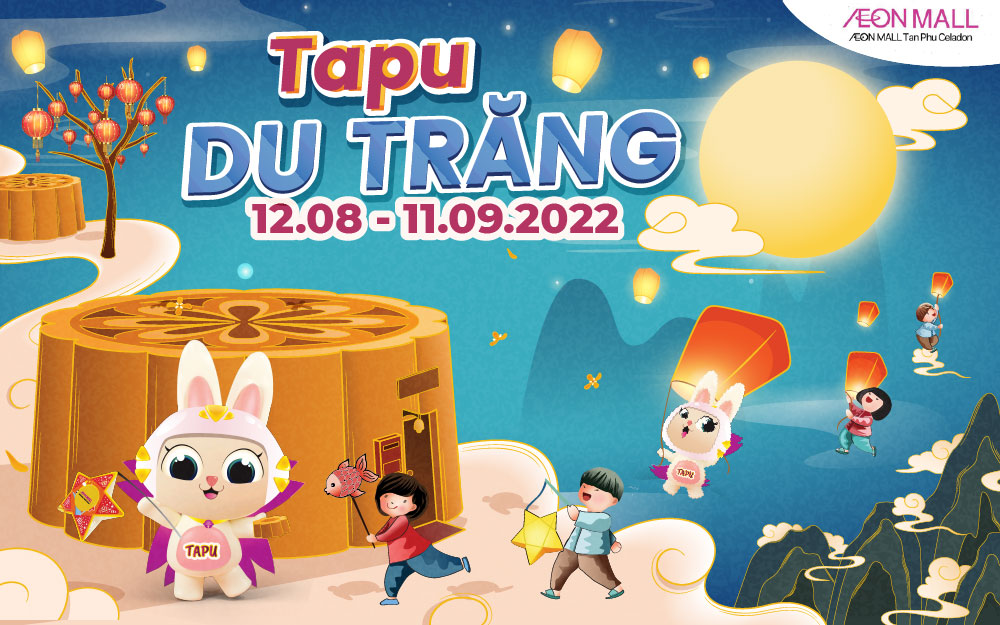 Wherever you go in a hurry, stop at the Mid-Autumn Festival stall. Because with just 𝟐.𝟎𝟎𝟎.𝟎𝟎𝟎 𝐕𝐍𝐃 or 𝟐𝟎𝟎 bill on the AEONMALL Vietnam app, you can exchange 1 lucky draw spin which is 100% to receive 1 gift (*). Especially, from 𝟎𝟏/𝟎𝟗 – 𝟏𝟏/𝟎𝟗/𝟐𝟎𝟐𝟐, all bills when shopping at the stalls in the East lobby will receive an attractive gift immediately.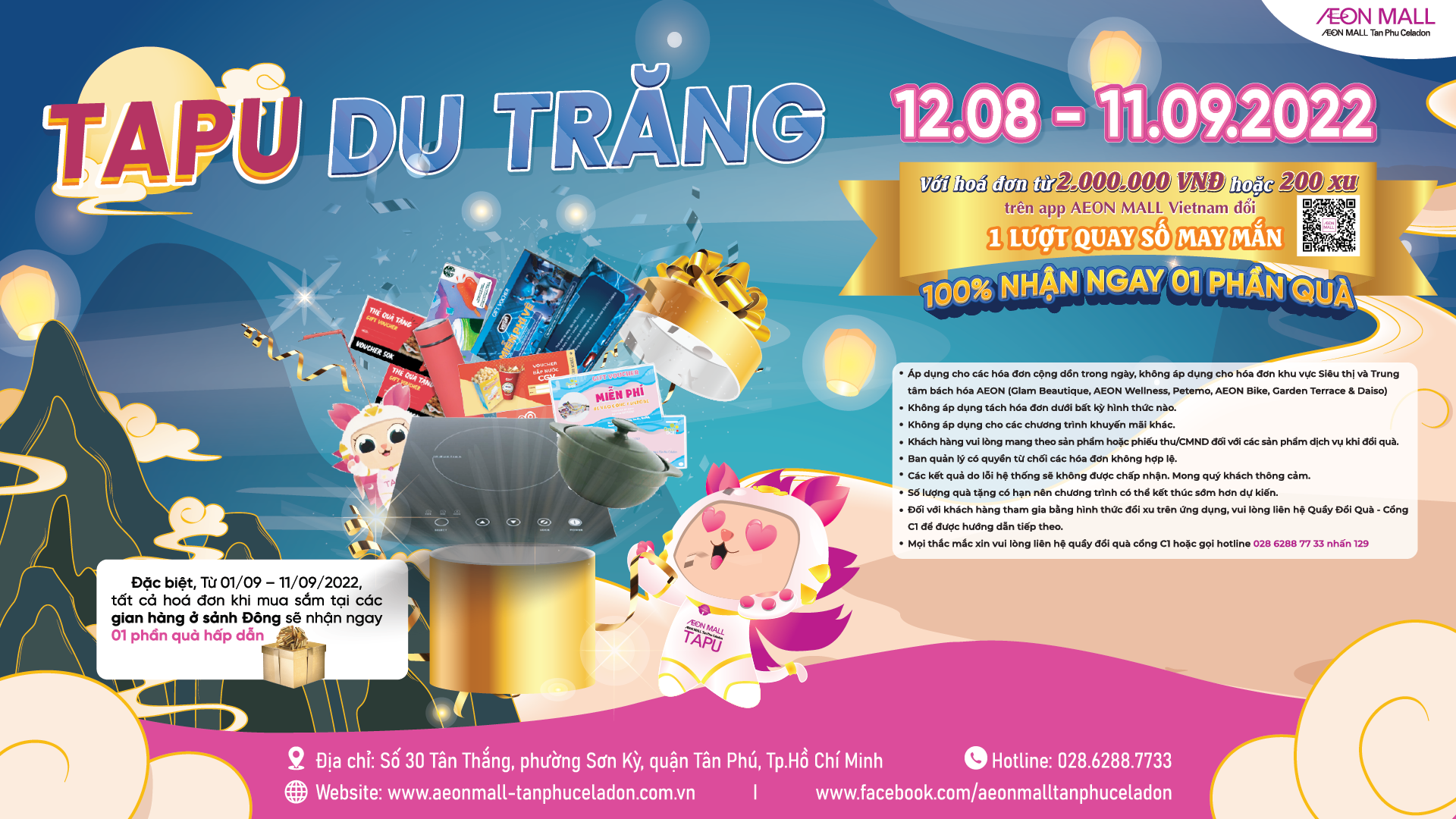 COLLECT COINS EXCHANGE TICKET – VISIT AEON MALL TAN PHU CELADON– VIEW THE WATER PUPPET SHOW
Exchange scheme: 10 coins you will get an adult ticket, 5 coins will get a child ticket. But especially COMBO 1 TICKETS FOR ADULTS 1 TICKET FOR CHILDREN for only 7 coins.
Remember to download the APP AEONMALL Vietnam to exchange tickets, register before the event on 𝟏𝟎/𝟎𝟗/𝟐𝟎𝟐𝟐 and don't forget to "note" right away the schedule of the event "COME TO THE MOON WITH TAPU" from 𝟏𝟐/𝟎𝟖/𝟐𝟎𝟐𝟐 – 𝟏𝟏/𝟎𝟗/𝟐𝟎𝟐𝟐 day!​
———————
(*) NOTE:
Applies to same-day accrued invoices, not to AEON Supermarket and Department Store (Glam Beautique, AEON Wellness, Petemo, AEON Bike, Garden Terrace & Daiso)
Do not apply invoice separation in any way
Not applicable for other promotions 
Customers are kindly requested to bring products or receipts/ ID cards for products and services when redeeming gifts 
Organizers reserves the right to refuse invalid invoices
Results caused by system errors will not be accepted. I hope you understand. 
The number of gifts is limited so the program may end earlier than expected 
For customers participating by exchanging coins on the application, please contact the Redemption Counter – Gate C1 for further instructions 
If you have any questions, please contact the Redemption Counter – Gate C1 or hotline: 028.6288.7733 (press 129)
———————
App download link:
– iOS: http://bit.ly/AMTPCios
– Android: http://bit.ly/AMTPCandroid
———————
All only at AEON MALL Tan Phu Celadon – The ideal shopping and entertainment place
– Address: No. 30 Tan Thang, Son Ky Ward, Tan Phu District, Ho Chi Minh City
– Hotline: 028.62.88.77.33
– Website: https://aeonmall-tanphuceladon.com.vn/
– Fanpage: https://www.facebook.com/aeonmalltanphuceladon/
– Instagram: instagram.com/aeonmalltanphuceladon/
– Zalo: http://bit.ly/zalo_amtpc