Enjoy receiving great gifts with the DOUBLE DAY – DOUBLE FUN event with a chance to win a HUGE prize of up to 10,000,000 VND when joining in the lucky draw at AEON MALL Tan Phu Celadon.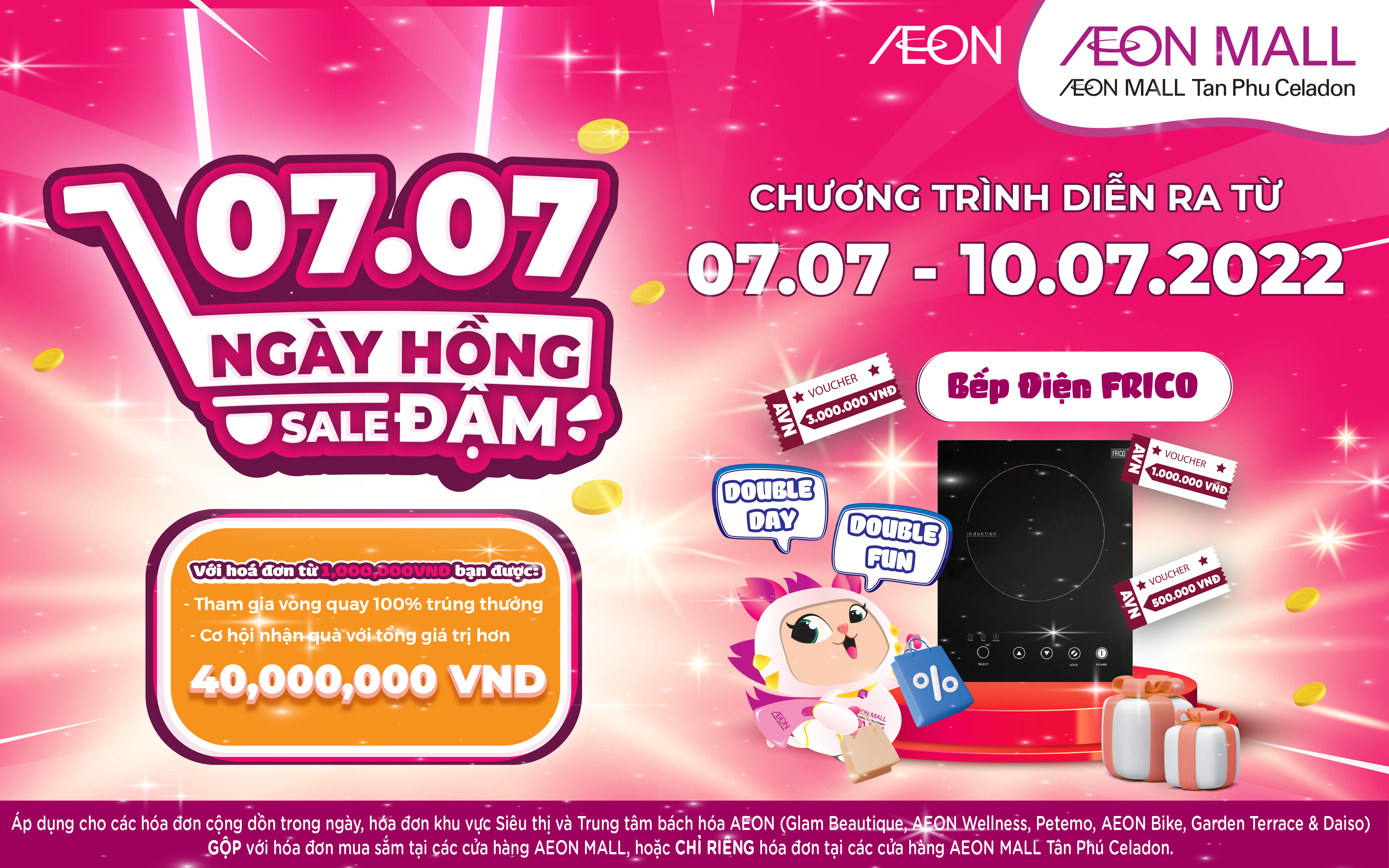 The rules for participating in the event are very simple: ​
With each bill from 1,000,000 VND or the corresponding total number of coins accumulated through the AEONMALL Vietnam App, you will have the opportunity to participate in the lucky draw to receive valuable gifts.
In addition, you also receive 01 lucky draw ticket and the opportunity to receive a special prize – Frisco electric cooker worth up to 10,000,000 VND and hundreds of other "great" gifts.
Not stopping there, if you belong to the customer reward at App AEONMALL Vietnam you also have the opportunity to receive an additional Set of 03 lovely porcelain bowls when exchanging 200 coins respectively!
Location: Redemption counter Central Lobby – Ground floor AEON MALL Tan Phu Celadon ​
Program time: 07/07 – 10/07/2022
SPECIAL PRIZES WILL BE ANNOUNCED AT 21:00 07.10.2022
Let's all get ready to welcome HOT deals in July at AEON MALL Tan Phu Celadon!
​
Note: ​
– DO NOT APPLY FOR BILLS AT OTHER EVENTS (SALEFAIR IN THE COURT)
– Customers please keep the bill receipt to join in.
– Each customer can only participate 1 time in 1 day.​
– The bill to participate are shopping bill at AEON MALL Tan Phu Celadon or bills from AEON MALL Tan Phu Celadon and AEON Supermarket.
– Do not apply split bills in any form.
– Each customer can only receive up to 01 gift, not applicable for other promotions.
– Customers please bring products or receipts / ID cards for products and services when exchanging gifts.
– Management has the right to refuse invalid invoices.
– Results due to system failure will not be accepted. Wish you sympathize.
– The number of gifts is limited, so the program may end earlier than expected.
– For any questions, please contact the information counter at Gate D on the ground floor of AEON MALL Tan Phu Celadon or call hotline 028 6288 77 33 press 129.
———————
App download link:
– iOS: http://bit.ly/AMTPCios
– Android: http://bit.ly/AMTPCandroid
———————
All only at AEON MALL Tan Phu Celadon – The ideal shopping and entertainment place
– Address: No. 30 Tan Thang, Son Ky Ward, Tan Phu District, Ho Chi Minh City
– Hotline: 028.62.88.77.33
– Website: https://aeonmall-tanphuceladon.com.vn/
– Fanpage: https://www.facebook.com/aeonmalltanphuceladon/
– Instagram: instagram.com/aeonmalltanphuceladon/
– Zalo: http://bit.ly/zalo_amtpc