If you are still wondering about a place to avoid the changing sun in Saigon, then we invite you to EXPLORE THE GREEN PLANET with AEON MALL Tan Phu Celadon. Coming to this event, you will experience all the very interesting and unique activities, let's explore: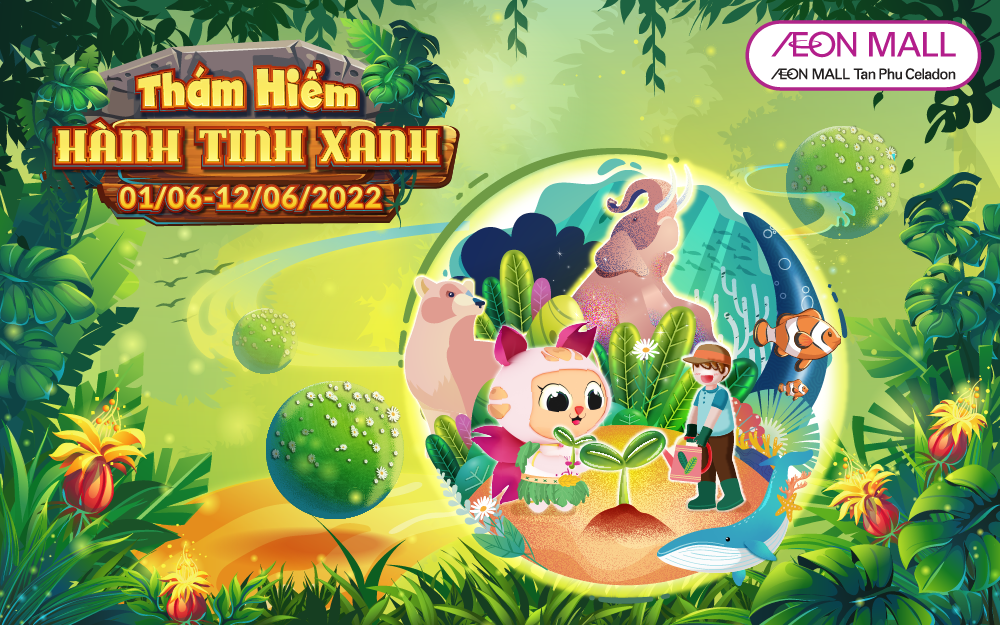 First, you will be immersed in a miniature version of "Zootopia" at the wildlife zoo, or try your hand at finding "fish" in the cool blue ocean and don't miss the mysterious forest with golden deer are waiting for you.
After taking the photo, don't be afraid to let flow in the wild with very interesting activities to have the opportunity to own cute and meaningful gifts from our familiar friend – TAPU.
And yet, having played, taken pictures then you can not skip for the event right?
– Eco Workshop (18:00 – 20:00 | June 4th, 2022): You will be guided by our technical experts with skills and environmental knowledge to protect the Green Planet
– Greenderland Festival (10:00 – 11:00 | June 11th – 12th, 2022): Parade with TAPU and special "friends", enjoy the unique atmosphere.
– Tree Planting Day (June 26th, 2022): End the chain activity by returning a meaningful "seed" similar to AEON MALL Tan Phu Celadon when you participate in tree planting activities for the GREEN Planet
Don't be stop by there: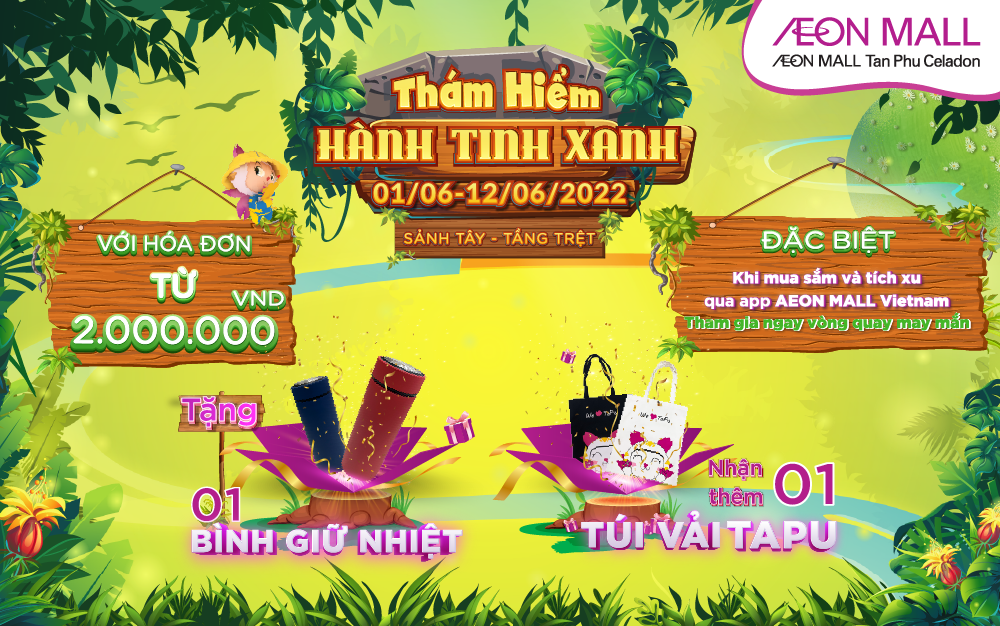 – From June 1st to June 12th, 2022, with each bill of 2,000,000 VND, you will receive a lovely TAPU thermos bottle so you don't have to worry about the sun on this summer.
– More specifically, if you have payments by cashless (payment via bank, e-wallet, …) and join the AEONMALL Vietnam REWARDS at AEONMALL Vietnam app, you have the opportunity to join in lucky draw to receive TAPU canvas bags.
Don't miss this great opportunity to have a COOL summer! Hurry up to make this summer an exciting one.
* Note: Campaign conditional add-on for all eligible customers:
Applies to resonant units of the day, not applicable to AEON Supermarket and Departmental Center bills (Glam Beautique, AEON Wellness, Petemo, AEON Bike, Garden Terrace & Daiso)
Simplify the application does not apply in any shape format
Customers please bring products or receipts for product services when participating in the game
Management has the right to use invalid invoices
Participation vouchers appearing due to system error will not be accepted. Wish you sympathize.
For any questions, please contact the information system at Gate D on the ground floor of AEON MALL Tan Phu Celadon or call hotline 028 6288 77 33 press 129
———————
App download link:
– iOS: http://bit.ly/AMTPCios
– Android: http://bit.ly/AMTPCandroid
———————
All only at AEON MALL Tan Phu Celadon – The ideal shopping and entertainment place
– Address: No. 30 Tan Thang, Son Ky Ward, Tan Phu District, Ho Chi Minh City
– Hotline: 028.62.88.77.33
– Website: https://aeonmall-tanphuceladon.com.vn/
– Fanpage: https://www.facebook.com/aeonmalltanphuceladon/
– Instagram: instagram.com/aeonmalltanphuceladon/
– Zalo: http://bit.ly/zalo_amtpc