Did you know? This year, Halloween festival at AEON MALL Tan Phu Celadon will not come with typical decorative motifs such as normal pumpkins, reaper or dracula. Instead, many swings, circus house, "familiar but strange" clown promise to surprise you with the "Mysterious amusement park" theme this season. With the desire to bring a new Halloween space, AEON MALL Tan Phu Celadon is very eager to meet everyone with a series of explosive events and activities.
Special Halloween "Masquerade" night event
Time: 18:30, Oct 31st 2020
Location: West Court – Ground floor AEON MALL Tan Phu Celadon
We will welcome not only Orange singer – a very strong personality girl having particular voice and countless hit songs such as Nguoi La Oi, Chan Ai, etc., but also meet F-Band group with many enthusiastic performances. All promise a very dynamic Halloween music night. In addition, you will also have chance to join free mask decoration activity from 09:00 – 17:00 at the court when coming to this event.
On the other hand, on weekends from October 9th to November 1st, 2020, there will be unique mascot performances of 6 special Halloween characters at 09:00 – 12:00 & 17:00 – 22:00. These special ones from Halloween decoration clusters at AEON MALL Tan Phu Celadon will contribute to stirring up the funny atmosphere of this Halloween occasion. Besides, the return of Scare off the Ghost activity under the name "Running Ghost – Running Mall" that used to bring scare to you will surely make you feel interesting & surprised at every 18:00 – 21:00 on Oct 11-18-24-25-31, 2020.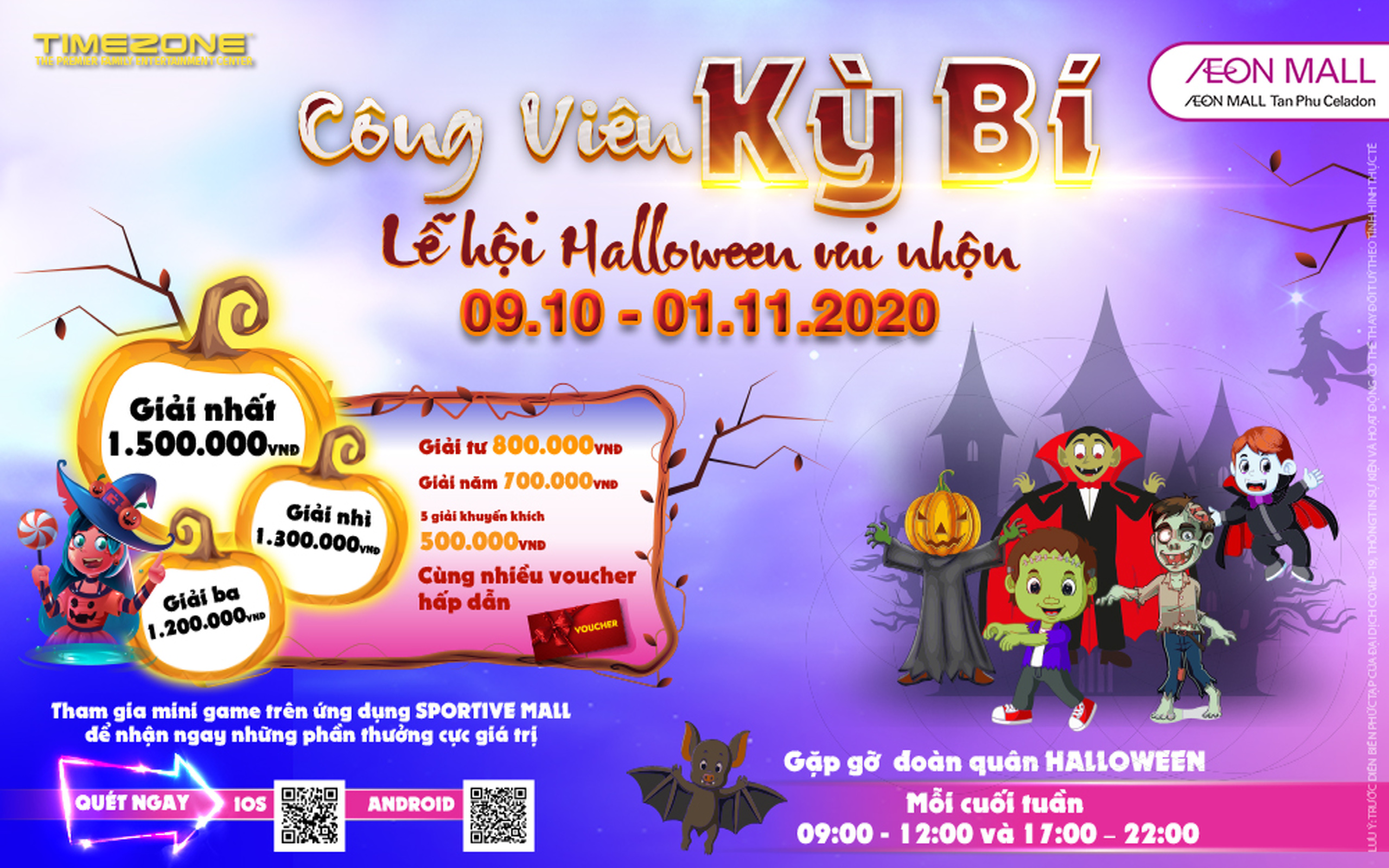 Especially, this year's Halloween also marks the return of Sportive Mall season 3 with the "Happy" theme, where you can be completely satisfied when both exercising and enjoying Halloween festival. Moreover, the opportunity to win many attractive prizes with "Halloween Marathon" game on Sportive Mall application is going to open for everyone, do not miss it!
Let's be ready to experience a very exciting Halloween season at AEON MALL Tan Phu Celadon now!