It's time for Halloween – the biggest masquerade festival for young people. Joining the ghostly and magical atmosphere of this year's Halloween season, AEON MALL Tan Phu Celadon brings to customers a decoration space that promises an unprecedented experience: Super-giant Castle of Light at outdoor parking lot (zone A).
Inspired by the Jack character in Western Halloween stories, customers will have the opportunity to meet the special "Jack" of AEON MALL Tan Phu Celadon as well as Jack's majestic castle, with many rooms whose decorations follow both Halloween scary & interesting styles. From October 5th – November 3rd, 2019, customers can go inside to visit every corner of the castle and experience the mysterious activities here. Many other surprises are waiting for all of you at the Castle of Light.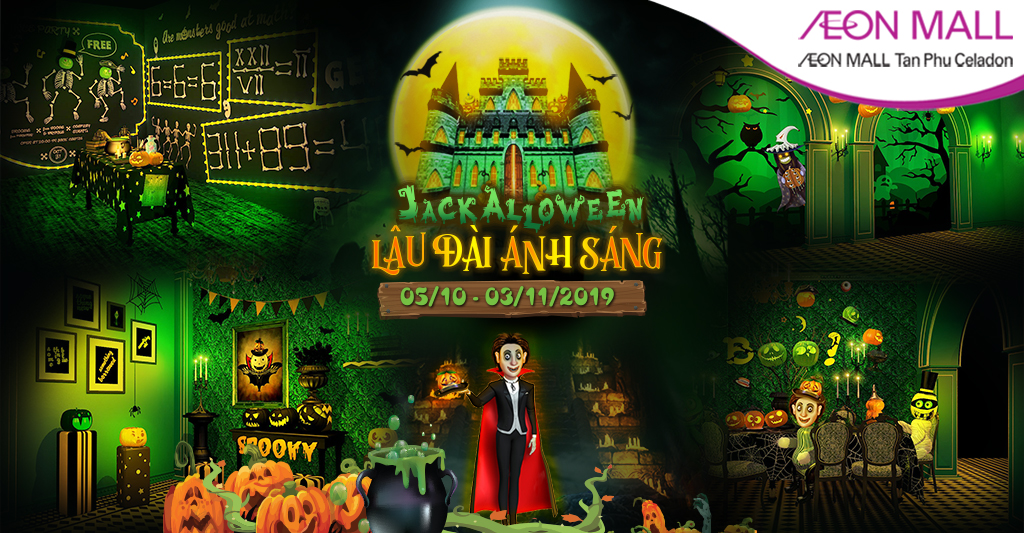 In addition, on this year's Halloween season, customers visiting AEON MALL Tan Phu Celadon will not only experience special music party as well as lots of interesting activities, but also have the opportunity to get special gifts from the promotion program as follows:
With bills from 6 million VND: Receive 01 unique Halloween umbrella
With bills from 3 million VND: Get 01 lovely pumpkin-shaped pillow
The Halloween promotion program will take place from October 5th to November 3rd, 2019 at AEON MALL Tan Phu Celadon Shopping Center area.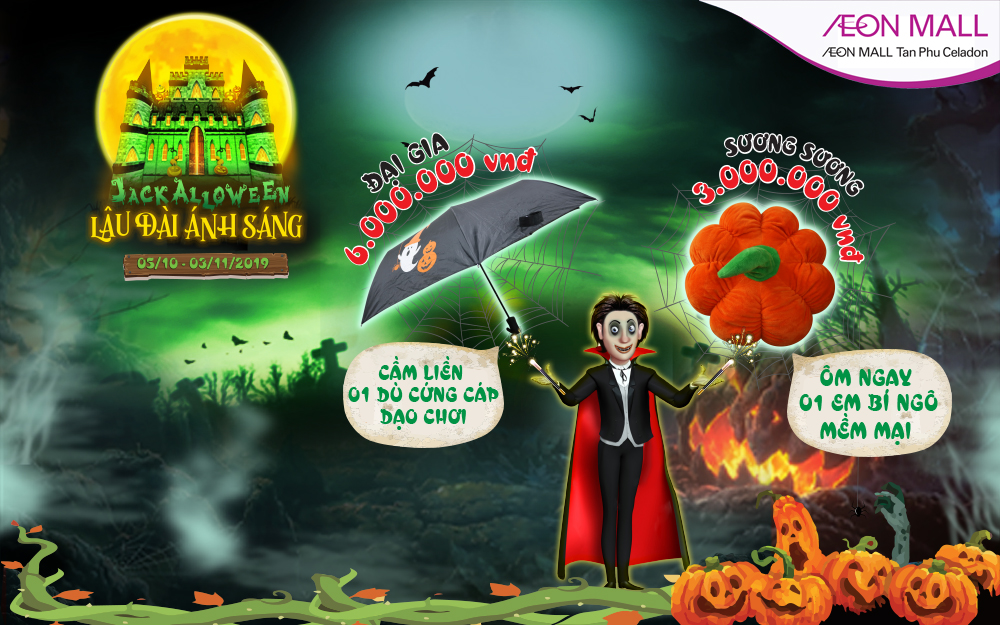 * Terms & conditions:
Applicable to cumulative invoices during the day, not applicable to shopping invoices in the AEON Supermarket and Department Store area (including Glam Beautique, Petemo, AEON Bike, Garden Terrace & Daiso).
Do not accept split invoices in any form.
Each customer can only receive up to 01 gift and does not apply to other promotions.
Customers please bring products or receipts/ ID cards for products that are services when exchanging gifts.
Staff working at AEON MALL Tan Phu Celadon are not allowed to join the program.
The management board has the right to refuse invalid invoices.
The number of gifts is limited, thus the program may end sooner than expected.
Any questions please contact Customer Information Counter at D Gate – Ground floor AEON MALL Tan Phu Celadon or hotline 028 6288 77 33 ext 129.
Let's come to AEON MALL Tan Phu Celadon to meet the special Jack at the giant Castle of Light!