In order to follow the success of 2 meaningful "Give a book – Give a future" over the past 2 years, AEON MALL Tan Phu Celadon will not only brings a chain of exciting events but also lots of interesting activities, promising a "play and learn" space for all customers, especially our students.
>>> Sharing knowledge with meaningful book donation program
Time: Aug 07 – 16, 2020
Location: ST06 lobby – 1st floor
Donation activity: Work together to help the unlucky children in Ben Tre province building dreaming bookcases by donating textbooks, skill books, comics, notebooks, etc. and learning tools at the donation booth of AEON MALL Tan Phu Celadon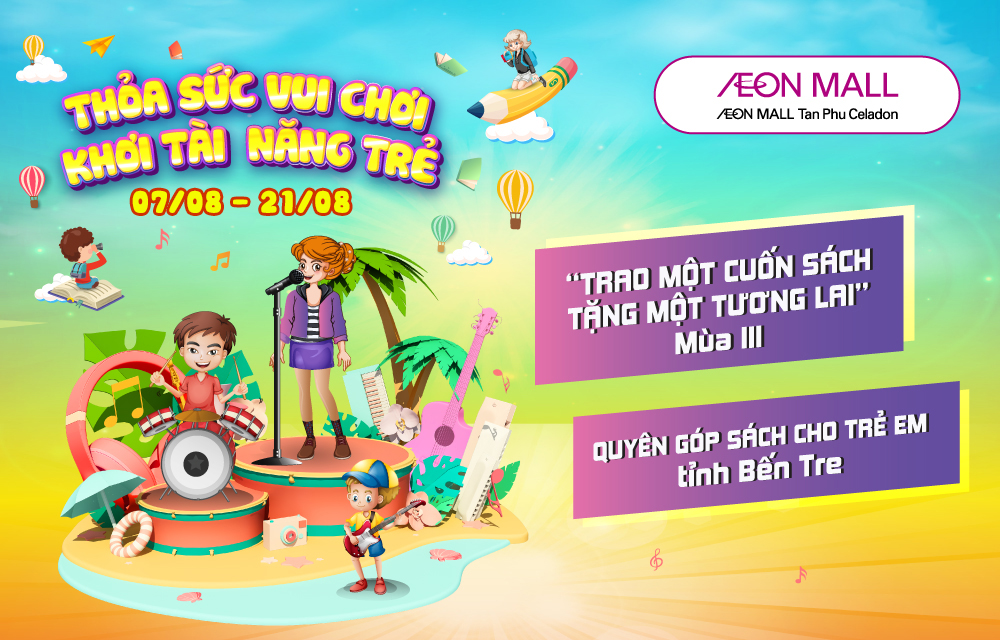 In 2020, AEON MALL Tan Phu Celadon Shopping Center with the "Give a Book – Give a Future" season III program will once again join customers and organizations in chasing the aim of donating 10,000 books, fulfilling the dream of building bookcases, practicing soft skills as well as motivating children about the need of reading and going to school. All books collected in Season III will be given to students at Tan Xuan Primary and Secondary School in Tan Xuan Commune, Ba Tri District – an extremely difficult area of Ben Tre Province.
Following the spirit of sharing meaningful knowledge as well as spreading the reading culture among young people of two "Give a Book – Give a Future" programs in 2018 and 2019 with over 12,000 books donated, "Give a Book – Give a Future" season III program wishes to continue to receive the enthusiastic support from customers, organizations and the community. Let's join AEON MALL Tan Phu Celadon to build a dream bookshelf for unlucky children!