This year's June 1st marks the 3-year anniversary of Decathlon AEON Mall Tan Phu. On this special occasion, Decathlon organizes a grand birthday celebration with a series of attractive activities as follows:
Check-in to receive limited edition gifts
Birthday – Big Day on June 1st
Lucky draw with attractive gifts (bike, scooter, tent)
Minigames every weekend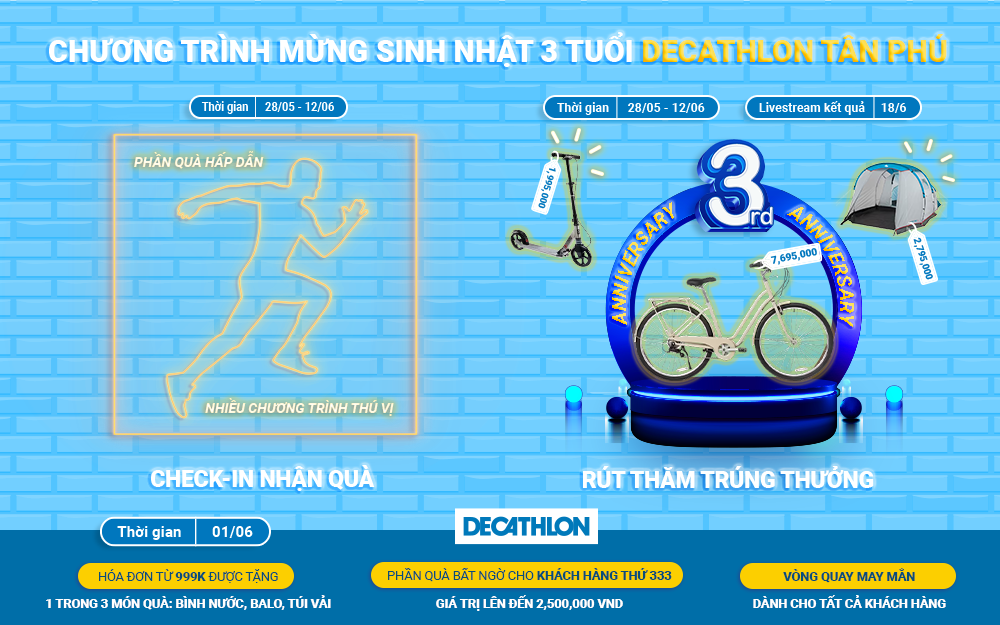 CHECK-IN GET GIFTS, x3 FUN WITH MINIGAME

From May 28 to June 12, customers who come to Decathlon at AEON MALL Tan Phu Celadon have the opportunity to receive a limited edition canvas bag, if you:

– Take pictures of the backdrop

– Share on social media with hashtag #decathlontanphu #hpbd3tuoi

**Note: the number of gifts is super limited!

Every weekend from May 28 to June 12, many minigames will take place at the Decathlon store, promising to bring customers 3 times more fun on the weekend:

– 33 push-ups

– 33km/h paced ru

BIRTHDAY – BIG DAY JUNE 1ST

Decathlon Tan Phu offers customers 3 special events ONLY on June 1st:

– With a bill from 999k, you will get 1 of 3 gifts: a backpack, water bottle & tote bag

– Special customer: 333rd will receive a surprise gift from Decathlon worth up to 2.5 million VND!

– Lucky spin at the cashier for all customers 

LUCKY DRAW WITH ATTRACTIVE GIFTS

From May 28 to June 12, customers with bills over 1.5 million VND can join our lucky draw and have a chance to receive 1 of the following gifts:

– Bicycle (worth VND 7,695,000)

– Scooter (worth 1,995,000 VND)

– Tent (2,795,000 VND)

Decathlon will announce the results on Livestream from June 18 to 19. Stay tuned and follow Decathlon Vietnam fanpage from now!
———————
App download link:
– iOS: http://bit.ly/AMTPCios
– Android: http://bit.ly/AMTPCandroid
———————
All only at AEON MALL Tan Phu Celadon – The ideal shopping and entertainment place
– Address: No. 30 Tan Thang, Son Ky Ward, Tan Phu District, Ho Chi Minh City
– Hotline: 028.62.88.77.33
– Website: https://aeonmall-tanphuceladon.com.vn/
– Fanpage: https://www.facebook.com/aeonmalltanphuceladon/
– Instagram: instagram.com/aeonmalltanphuceladon/
– Zalo: http://bit.ly/zalo_amtpc