Tet is coming so let go to AEON MALL Tan Phu Celadon to enjoy this moment with family and friend
Let me tell you, one of the hottest New Year activities in 2023 for you is the opportunity to receive special gifts only at AEON MALL Tan Phu Celadon
From 1st ~ 21st, Jan 2023, when shopping at AEON MALL Tan Phu Celadon with a cumulative bill from1,000,000 VND (1 million VND), you will receive a set of crabs and a combo of 5 red lucky money packets of TAPU version. Just hearing it is already attractive, right, if you look directly, and hold it right in your hand, I guarantee you will fall in love with this Tet gift set.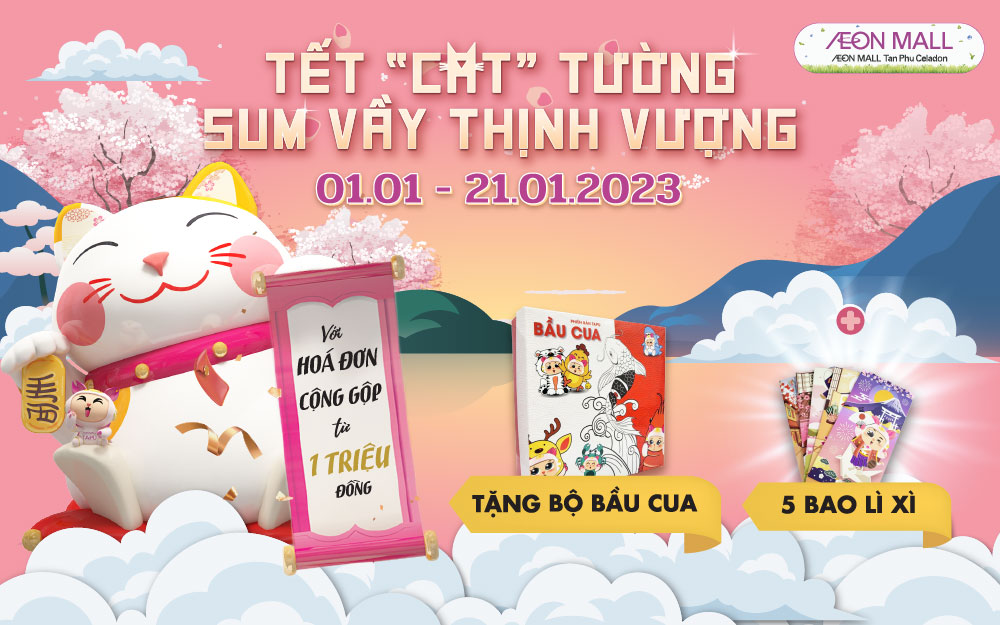 Not at all, this Luna New Year coming to AEON MALL Tan Phu Celadon will be a great choice for getting glorious photo in ao dai. With the appearance of the giant Maneki Neko cat lying under the cherry blossom tree, taking pictures from Vietnamese to Japanese style can all be possible.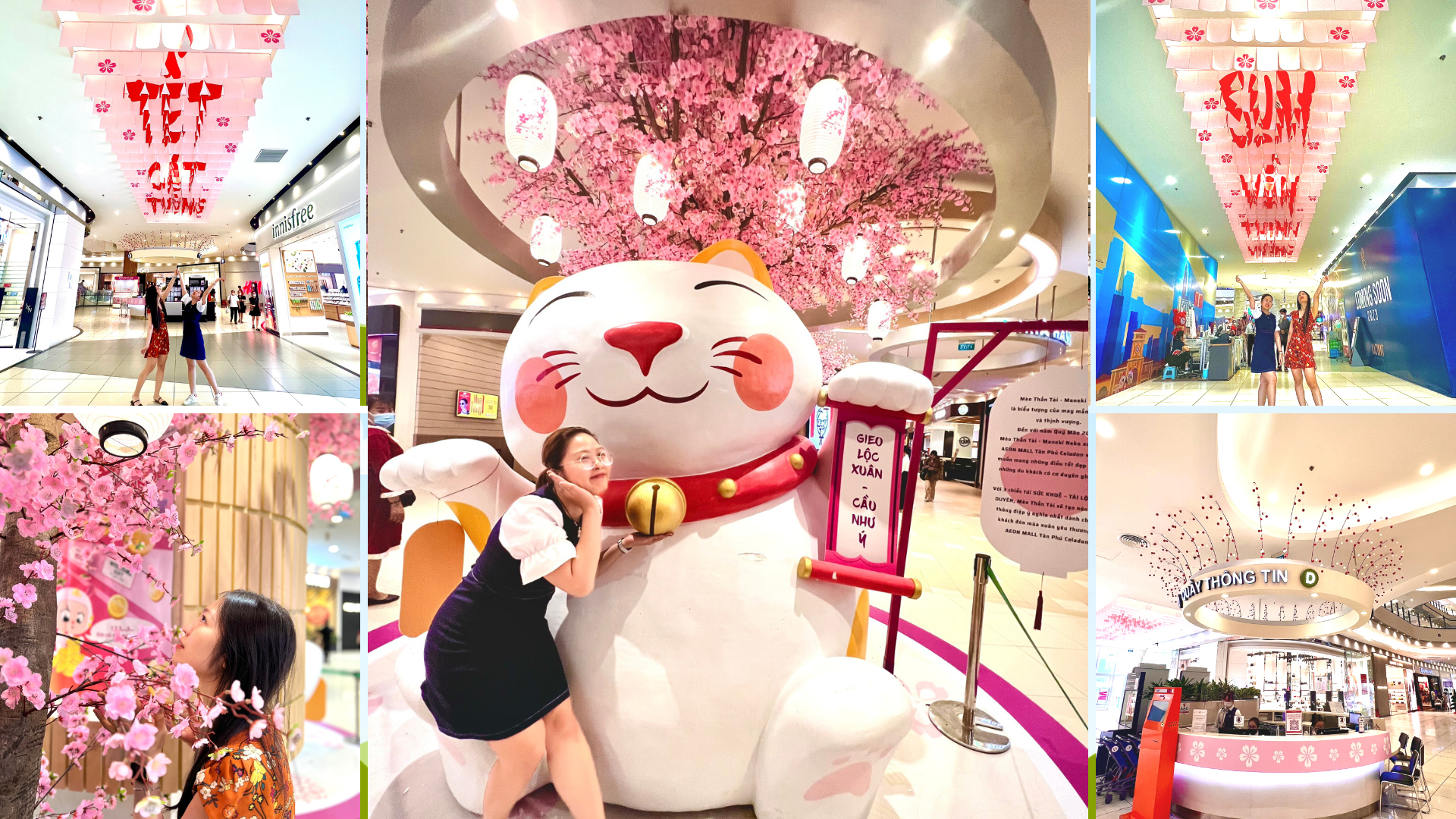 Not only that, the clusters of Japanese-style Tet decorations and cherry blossoms spread along AEON MALL Tan Phu Celadon will make you overwhelmed. Therefore, do not miss this Tet holiday to own beautiful and sparkling photos.
As for this, let me tell you, if there is no deal on Tet, then come to MALL without thinking, because there are many interesting activities that last from the 4th day of the New Year and also have a special fortune event. on the 10th as well.
1st year: Opening the New Year with a lively "cat" lion dance and a lively Yosakoi dance
2nd year: Comedy "My New Year's Story with BB Tran and Hai Trieu"
3rd year: Musical "Fairy Tale" with the group Lieu Lo
4th year: Happy spring music night with MTV
10th year: New Year of fortune with lottery activities of the Huong Nam Lot team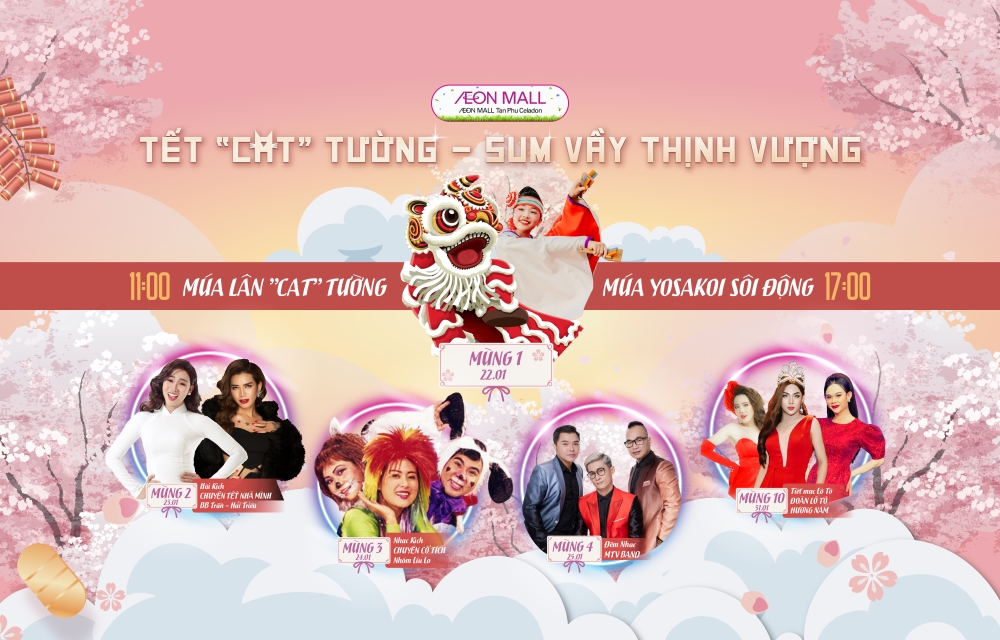 Oh my gosh, it's so exciting to celebrate Tet, isn't it? So, note the schedule immediately, make a day with family and friend for wonderful Tet holiday at AEON MALL Tan Phu Celadon
———————
App download link:
– iOS: http://bit.ly/AMTPCios
– Android: http://bit.ly/AMTPCandroid
———————
All only at AEON MALL Tan Phu Celadon – The ideal shopping and entertainment place
– Address: No. 30 Tan Thang, Son Ky Ward, Tan Phu District, Ho Chi Minh City
– Hotline: 028.62.88.77.33
– Website: https://aeonmall-tanphuceladon.com.vn/
– Fanpage: https://www.facebook.com/aeonmalltanphuceladon/
– Instagram: instagram.com/aeonmalltanphuceladon/