Shopping on Wednesday is fun, earning coins is fun, Wednesday is the same price as the voucher, and the joy is multiplied by 4.
Dear friend, you heard right, this October every Wednesday will be Happy Wednesday with a series of hot hit vouchers priced at 400 coins.
Let's explore this exciting event information now:
Time: From October 1, 2023, every Wednesday
Content: Customers can redeem many attractive vouchers for only 400 coins
How to participate:
Step 1: Shop a lot and earn a lot of coins on the AEON MALL Vietnam app (favorite shopping mall is AEON MALL Tan Phu Celadon)
Step 2: Go to the voucher section "Exchange coins" Select your favorite voucher worth 400 coins and click "Exchange voucher"
Step 3: Check the voucher in the "My" section.
Note:
– Limited number of vouchers
– To update the latest vouchers every week, please see more on the AEON MALL Vietnam application (favorite shopping mall is AEON MALL Tan Phu Celadon)
– The program only applies at AEON MALL Tan Phu Celadon
– See the list of stores that earn coins when shopping at AEON MALL Tan Phu Celadon at: https://aeonmall-tanphuceladon.com.vn/danh-sach-cua-hang-chuong-trinh-mua-sam-tich -coin/
– If you have any questions, please contact Gate D Information Counter – Ground Floor AEON MALL Tan Phu Celadon or contact hotline 028 6288 77 33 – ext: 106
Shop to your heart's content, and exchange coins to receive real vouchers!!! JOIN NOW, EVERYONE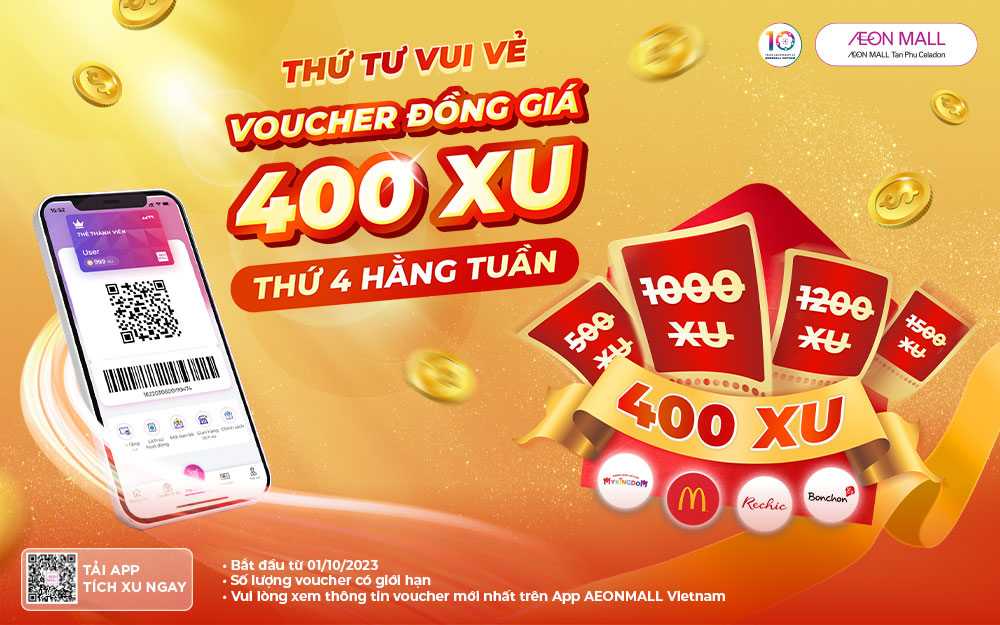 —————
App download link:
– iOS: http://bit.ly/AMTPCios
– Android: http://bit.ly/AMTPCandroid
—————
All only at AEON MALL Tan Phu Celadon – The ideal shopping and entertainment place
– Address: No. 30 Tan Thang, Son Ky Ward, Tan Phu District, Ho Chi Minh City
– Hotline: 028.62.88.77.33
– Website: https://aeonmall-tanphuceladon.com.vn/
– Fanpage: https://www.facebook.com/aeonmalltanphuceladon/
– Instagram: instagram.com/aeonmalltanphuceladon/
– Zalo: http://bit.ly/zalo_amtpc