To celebrate a brilliant summer, AEON MALL Tan Phu Celadon brings you Japanese culture through a series of Japanese Traditional Festivals.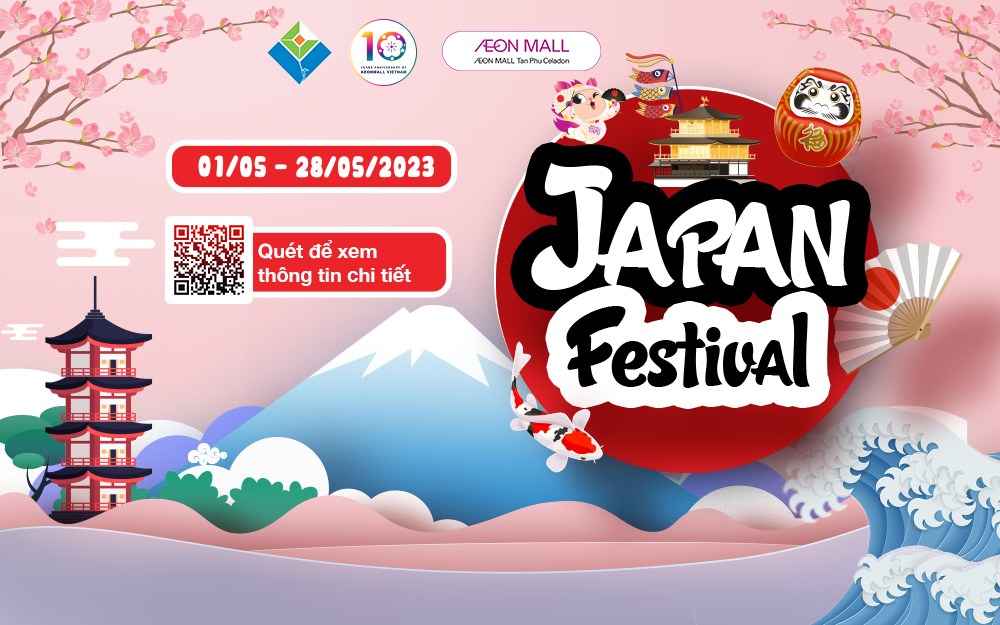 TTaking place from May 5 to May 28, 2023, the JAPANESE FESTIVAL will bring you unique activities:
Origami contest: 05/05 – 12/05: Central lobby: Customers who vote their 3 favorite works via the app will receive 10 coins.
Origami Workshop: May 13-14: Central lobby: Customers exchange 10 cents to participate in folding their favorite models at the respective time frames (10am – 12pm: cat and crab samples; 2pm – 4pm: fox, crab; 19h – 21h: lion, fox; remaining time frames: dog, butterfly, orange wing, samurai hat, flower)
Origami workshop: May 13 – May 14
Sales day: Nshop, Momotarou: May 20 – May 21
Workshop: Making items from Japanese clay (Use 300 coins and directly exchange and receive tickets at the App, 15:00 – 17:00 | Date: 20/05/2023 | West Hall); Exhibition of Japanese dolls; Workshop: Making dolls from Wood: May 20)
Cosplay Contest & Origami Awards Ceremony: May 21
Sale fair of Japanese brands: May 22 – May 28
Don't miss the opportunity to immediately enjoy a unique culture. All are only available at AEON MALL Tan Phu Celadon.
—————
App download link:
– iOS: http://bit.ly/AMTPCios
– Android: http://bit.ly/AMTPCandroid
—————
All only at AEON MALL Tan Phu Celadon – The ideal shopping and entertainment place
– Address: No. 30 Tan Thang, Son Ky Ward, Tan Phu District, Ho Chi Minh City
– Hotline: 028.62.88.77.33
– Website: https://aeonmall-tanphuceladon.com.vn/
– Fanpage: https://www.facebook.com/aeonmalltanphuceladon/
– Instagram: instagram.com/aeonmalltanphuceladon/
– Zalo: http://bit.ly/zalo_amtpc
– Tiktok: https://www.tiktok.com/@aeonmalltanphuceladon