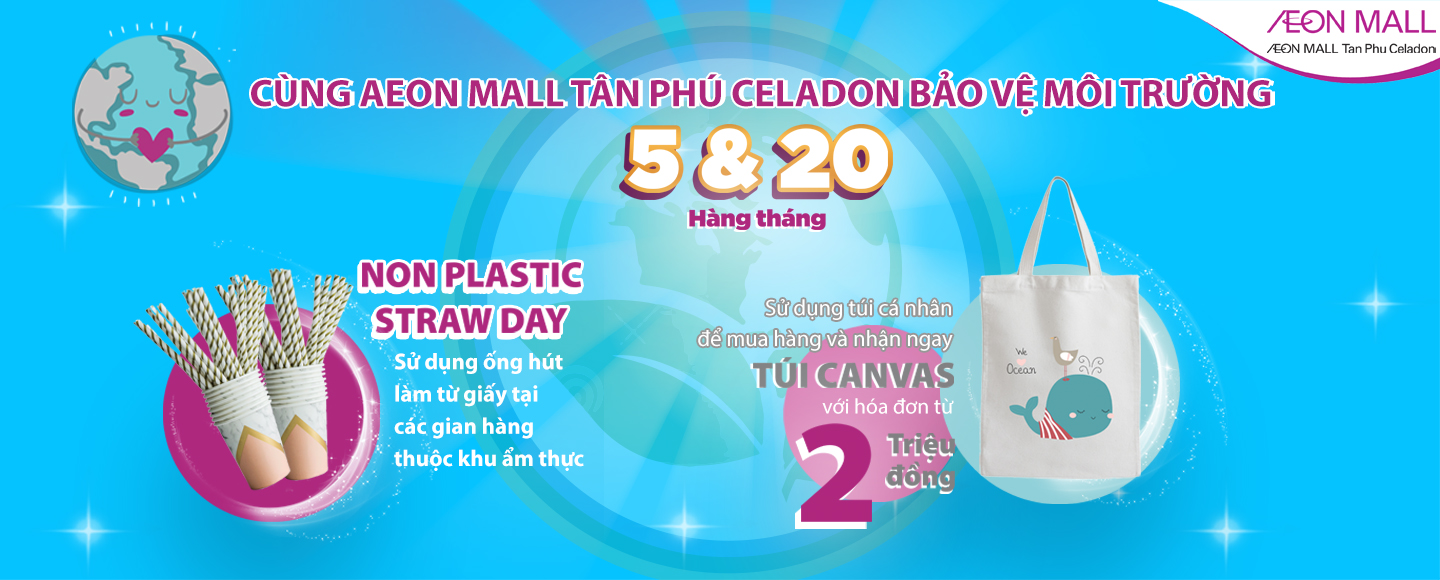 In the mottos of AEON MALL Tan Phu Celadon, supporting community growth is always one of the most important criteria.
Currently, the global fight against plastic waste is getting fiercer than ever. The effects and harms that plastic waste causes to the environment become more serious, making the whole world unable to "ignore" anymore. Many against-plastic waste campaigns and activities have been organized. Hence, AEON MALL Tan Phu Celadon has also begun to take action today.
On the 5th and 20th of every month, AEON MALL Tan Phu Celadon offers programs that accompany the fight against plastic waste as follows:
Offering eco-friendly bag: Each customer using personal bag when shopping at the Shopping Center area of AEON MALL Tan Phu Celadon with bill of VND 2 million or more on 5 & 20 monthly will receive 01 Eco Bag.
"Non-Plastic Straws Day" Program: On 5th & 20th each month at Foodcourt area – 2nd floor, AEON MALL Tan Phu Celadon, all stores will not use plastic straws. On these two days, paper straws will be used to minimize the amount of plastic consumed.
In addition, customers shopping with bills of VND 2 million or more on these two days at the Shopping Center area will also receive 01 convenient Tupperware bottle from the Member Day program.
Let's join AEON MALL Tan Phu Celadon's environmental program to limit plastic waste from the smallest actions!
***Terms & conditions:
Customers need to use their own bag when shopping on these two days.
Applicable to cumulative invoices during the day, not applicable to shopping invoices in the AEON Supermarket and Department Store area (including Glam Beautique, Petemo, AEON Bike, Garden Terrace & Daiso).
Do not accept split invoices in any form.
Each customer can only receive up to 01 gift. The program can be applied at the same time with other promotions.
Customers please bring products or receipts/ ID cards for products that are services when exchanging gifts.
Staff working at AEON MALL Tan Phu Celadon are not allowed to join the program.
The management board has the right to refuse invalid invoices.
The number of gifts is limited, thus the program may end sooner than expected.
Any questions please contact Customer Information Counter at Square Center – Ground floor AEON MALL Tan Phu Celadon or hotline 028 6288 77 33 ext 129.