😉 So who is "that person"? The answer will be revealed from the winner of the "AEON MALL Tan Phu Celadon mascot design" contest starting on September 12, 2021.
With the goal of finding mascots that match the brand image as well as creating a monumental playground for young people who love design, AEON MALL Tan Phu Celadon cooperates with VTC Academy to organize this useful contest❤
🎊 The total prize value explodes up to 𝟓𝟎 million dong!
🙌 You are free to show your talent and pursue your passion in the field of design!
⏱ Time: September 12 – December 2, 2021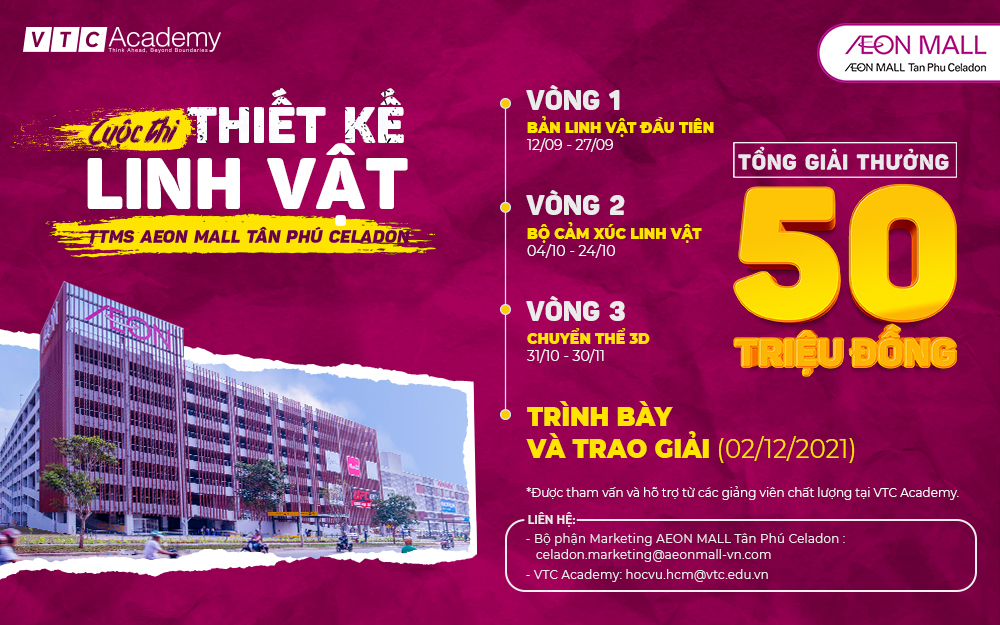 Are you the fans of AEON MALL Tan Phu Celadon? Find out about the program and register here: https://aeonmall-tanphuceladon.com.vn/cuoc-thi-thiet-ke-linh-vat-aeonmall-tanphuceladon.html ❤
😍 Good luck to all of you!
#𝐴𝐸𝑂𝑁𝑀𝐴𝐿𝐿𝑇𝑎𝑛𝑃ℎ𝑢𝐶𝑒𝑙𝑎𝑑𝑜𝑛 #𝑀𝑎𝑠𝑐𝑜𝑡𝐶𝑜𝑛𝑡𝑒𝑠𝑡 #𝑇𝑎𝑝𝑢
——————–
App download link:
👉 iOS: http://bit.ly/AMTPCios
👉 Android: http://bit.ly/AMTPCandroid
——————–
AEON MALL Tan Phu Celadon – The ideal shopping and entertainment place
🏠 Address: No. 30 Bo Bao Tan Thang, Son Ky Ward, Tan Phu District, Ho Chi Minh City
☎️ Hotline: 028.62.88.77.33
🌐 Website: https://aeonmall-tanphuceladon.com.vn/
👉 Fanpage: https://www.facebook.com/aeonmalltanphuceladon/
📷 Instagram: instagram.com/aeonmalltanphuceladon/
💬 Zalo: http://bit.ly/zalo_amtpc