In order to make the most of every opportunity to be able to send customers special and unique gifts, AEON MALL Tan Phu Celadon have launched the coin redemption program named AEONMALL VIETNAM REWARDS on AEONMALL Vietnam app.
When paying via Payoo, you can immediately get coins in your E-wallet:​
10,000VND = 1 COINS (applicable at individual stores)​​
10,000VND = 2 COINS (applicable at Foodcourt – 2nd floor)​
Double coins on special days (Double Day 5.5, 6.6,…), AEON Member's Day on 5th and 20th every month,…
+ 5 COINS when inviting friends to download the app
+ 10 COINS for customers who have birthday in the month.
With the accumulated coins, you can immediately exchange them many gifts:
E-Voucher Foodcourt for foodies
E-voucher for free shopping from 40,000 VND – 200,000 VND
Super cute Tapu teddy bear, key chains and many attractive gifts.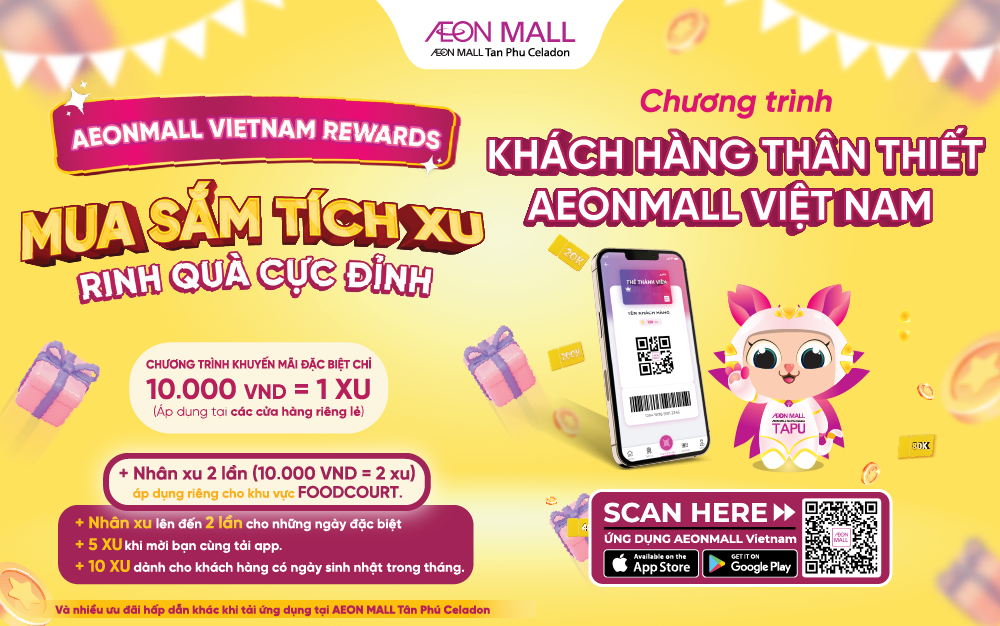 * NOTES WHEN APPLYING FOR THE PROGRAM:
– Customers can only use the App to collect coins at the stores listed.
– Only application for customers who pay cashless (cards, e-wallets, …)
– Not applicable at AEON Supermarket & Department Store area (Glam Beautique, Petemo, AEON BIKE & Daiso)
– AEON MALL Tan Phu Celadon Management can freeze accounts and request the related proof when finding out about cheating cases and send notification via email
– For any questions, please contact Information Counter at Gate D – Ground Floor AEON MALL Tan Phu Celadon or contact hotline 028 6288 77 33 – ext: 102
———————
A: 20 AGAIN, AKEMI UCHI, ALDO, ANTA, AOKANG, ARIZE, ASICS
B: BABY POINT, BALA BALA, BAMBOO DIMSUM, BANGKOK HOUSE, BB WELLNESS, BELLUNI, BEVERLY HILLS POLO CLUB, BJ TOKBOKKI, BOBAPOP, BREADTALK, BONCHON
C: CHARLES & KEITH, CANIFA, CHANG KANG KUNG, CHICHIKO, CƠM NGON VÀ LẨU CÔNG CHÚA, CON CƯNG, CONVERSE, COUPLE TX, CRYSTAL JADE
D: DOKI DOKI, DOOKKI, DREAM GAMES, DREAM KIDS, DONG HAI
E: EDENA, ESTELLE
F: FANCY TIME, FANPEKKA, FOODEE RESTOP
G: GABBY, GIORDANO, GOGI HOUSE, GOJOY.VN, GUARDIAN, GUMAC, GYU KAKU
H: HAISANCUA.COM, HIGHLANDS COFFEE, HLA, HNOSS, HOÀNG GIA, HOÀNG PHÚC, HOANG YEN BUFFET, HOANG YEN HOTPOT, HOKKAIDO, HOTPOT STORY & KHAO LAO, HOUSE OF SAMSONITE, HUAWEI, HUROM JUICE CAFÉ, HUTONG
I: IBASIC, INNISFREE
J: JANG IN, JIANG HU, JOCKEY, JOVEN
K: KENJO, KICHI KICHI, KING BBQ, KOHNAN, KOMONOYA
L: L'ANGFARM, LẨU BA DỪA, LE MONDE STEAK, LEMINO, LIME ORANGE, LIZD, LOCK & LOCK, LOVE KIDS, LUG.VN & ECHOLAC
M: MARC. MARUKAME UDON, MẮT VIỆT, MAXXKER, MAXXSPORT, MAY 10, MEGANE PRINCE, MEIWEI, MKI, MILVUS, MINIGOOD, MOLLY FANTASY, MÓN HÀN, MÓN VIỆT, MY KINGDOM, MORRA
N: NEW BALANCE, NINOMAXX
O: OLV, OWEN, OGAWA, OKIA, OGAWA
P: PAPA XỐT, PEDRO, PEPPER LUNCH, PINKISS, PIZZA 4P's, PREMIUM HOUSEWARES, PRIMA, PNJ
R: R&B, RABITY, SABLANCA
S: SKECHERS, STYLE BY PNJ, SUKIYA, SUSHI KEI
T: TEA LIVE, TEXAS CHICKEN, THAI EXPRESS, THE BLUES & CHILDREN SMILE, THE PIZZA COMPANY, THE SCENT, TIME STATION NEO, TIME ZONE, TOWEL MUSEUM, TUPPERWARE, TVWORLD
U: UMBRELLA, USHI MANIA
V: VALENTINO CREATIONS, VANS, VIỆT DELI
W: WESTWAY DENTAL CLINIC
Y: YAMAHA, YVES ROCHER
#AEONMALLTanPhuCeladon #AEONMALLVietnam
———————
App download link:
iOS: http://bit.ly/AMTPCios
Android: http://bit.ly/AMTPCandroid
———————
All only at AEON MALL Tan Phu Celadon – The ideal shopping and entertainment place
Address: No. 30 Tan Thang, Son Ky Ward, Tan Phu District, Ho Chi Minh City
Hotline: 028.62.88.77.33
Website: https://aeonmall-tanphuceladon.com.vn/
Fanpage: https://www.facebook.com/aeonmalltanphuceladon/
Instagram: instagram.com/aeonmalltanphuceladon/
Zalo: http://bit.ly/zalo_amtpc