SHOW THANG NAM – NAM THANG XA is the special thing of this May that AEON MALL Tan Phu Celadon wants to give you.
At 19:00 – 21:00 on May 14, 2023, please take the time to review those precious memories with "Rain Prince" TRUNG QUAN IDOL and "Memory Princess" THUY CHI!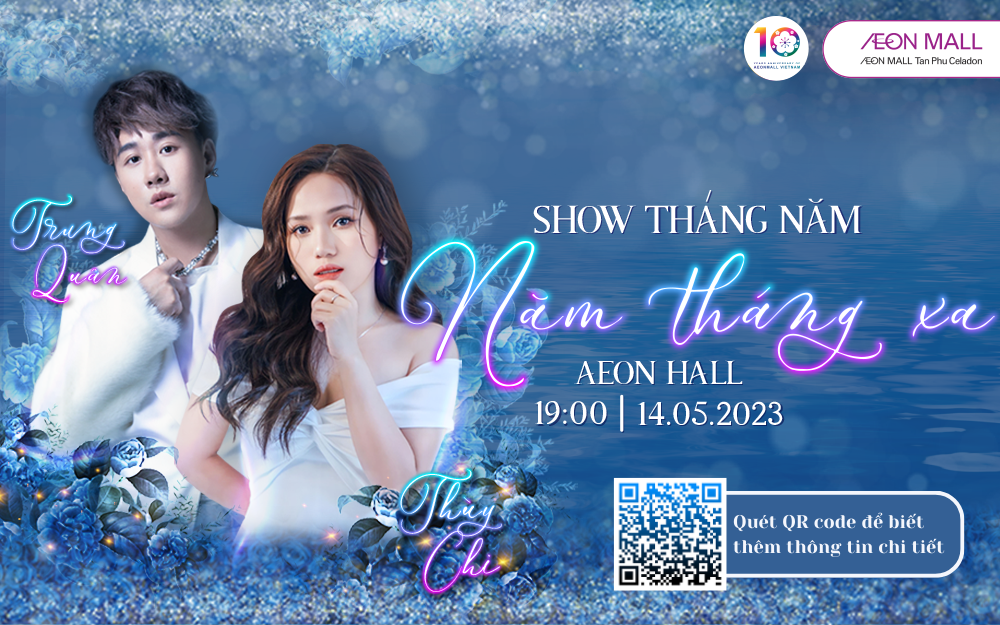 The way to enjoy the show is very simple:
Step 1: Download the app AEONMALL Vietnam >>>> accumulate coins in the section "REWARD"
Step 2: Go to the "Voucher" section >> Move to the "Redeem" section >> Select the ticket "SHOW THANG NAM – NAM THANG XA" according to the Zone you want and change it.
ZONE A: 899 COINS
ZONE B: 799 COINS
ZONE C: 599 COINS
Coin exchange time: 14.04 – 12.05.2023
Step 3: Check the "Mine" section and prepare to go.

Seating map
What you will receive when you join:
+ Come to SHOW MAY – YEAR MONTH, you will have the opportunity to meet the hottest singers today
+ Listening to chill music in a space filled with memories
+ The most beautiful organizational space in Tan Phu
+ Feel free to check in
+ Capacity for up to more than 300 guests
+ Preserve meaningful moments with family and loved ones.
***Note:
– Each ticket to the Show corresponds to one guest
– Priority tickets for customers 16+ and above
– When you check in, PG will guide you to the area you bought to choose a seat.
*A small suggestion from BTC is to come early to reserve a suitable seat for you in the Zone!
—————
App download link:
– iOS: http://bit.ly/AMTPCios
– Android: http://bit.ly/AMTPCandroid
—————
All only at AEON MALL Tan Phu Celadon – The ideal shopping and entertainment place
– Address: No. 30 Tan Thang, Son Ky Ward, Tan Phu District, Ho Chi Minh City
– Hotline: 028.62.88.77.33
– Website: https://aeonmall-tanphuceladon.com.vn/
– Fanpage: https://www.facebook.com/aeonmalltanphuceladon/
– Instagram: instagram.com/aeonmalltanphuceladon/