What makes Mid-Autumn Festival at AEON MALL Tan Phu Celadon special? Find it as below!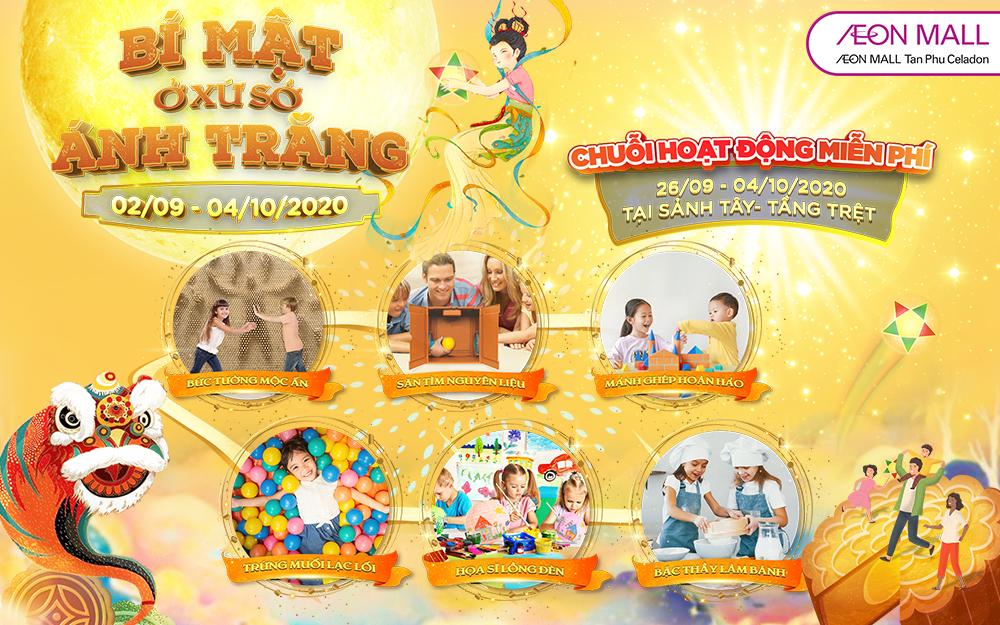 The series of Mid-Autumn Festival activities with "The Secret in the Land of Moonlight" theme will be organized from September 26th to October 4th, 2020. All promise to bring exciting and joyful activities waiting for you to explore:
"Wood seal wall": Let's see who can create the most impressive marks.
"Lost salted eggs": Children role-play as the explorers searching for the precious "treasure" of moon cakes.
"Hunting for ingredients": Skillfully capture the ingredients "flying" in the air.
"Perfect puzzle piece": Quickly assemble the ingredients to create a complete moon cake.
"Lantern artist": Decorate a lovely Mid-Autumn lantern.
"Moon cake master": Create "handmade" mooncakes.
>>> Location: West court – Ground floor
Besides, don't miss our special date: October 4th, 2020 at 18:30! A great party is dedicated for you with many activities, promising an impressive Mid-Autumn Festival at AEON MALL Tan Phu Celadon only. (See event details here)
How interesting is it, right? But there is more – you also have the opportunity to get attractive gifts with shopping promotions exclusively for this Mid-Autumn season. Let's come to AEON MALL Tan Phu Celadon to enjoy a wonderful Mid-Autumn Festival together!