As an extremely good "habit", AEON MALL Tan Phu Celadon is about to launch a new activity for hommies – An extremely epic playground with "twisting knowledge questions" between TAPU and you!!!!
Tapu Quiz show is a knowledge game with diverse questions from many different fields ranging from easy to…not easy.
At the Tapu Quiz show, based on your correct answers on the total number of questions given, you will correspond to a gift from AEON MALL Tan Phu Celadon.
How to join:
From August 23 to September 30, 2022, after downloading the AEONMALL Vietnam app – choose AEON MALL Tan Phu Celadon as your favorite shopping mall, go to the booth at gate C1 (near Highlands Coffee) – G floor – to scan the QR code to start the turn.
Press START, then answer 10 questions consecutively, thinking time is 10 seconds.
After the quiz game, check the "Mine" section of the E-voucher to see what your prize is.
Very attractive prizes at the first Tapu Quiz show: Astronaut bluetooth speaker, Bonchon voucher, Lock & Lock voucher, pretty glass vase, mini USB light,…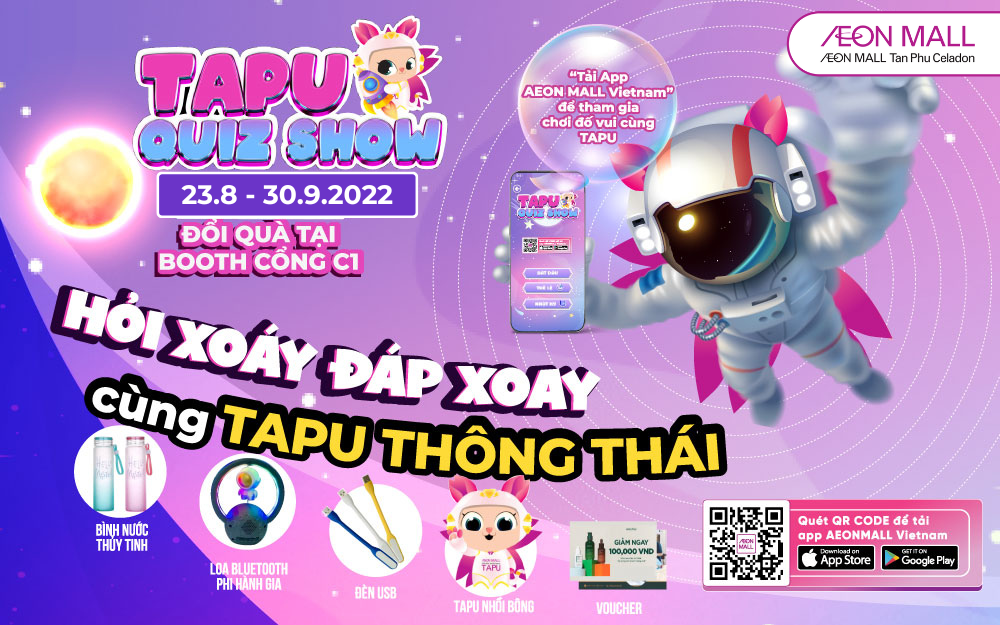 *Note:Conditions apply according to the policy of the Rewards program to accumulate coins (AEON MALL Tan Phu Celadon)
—————
App download link:
– iOS: http://bit.ly/AMTPCios
– Android: http://bit.ly/AMTPCandroid
—————–—————
All only at AEON MALL Tan Phu Celadon – The ideal entertainment and shopping place
– Address: No. 30 Tan Thang, Son Ky Ward, Tan Phu District, Ho Chi Minh City
– Hotline: 028.62.88.77.33
– Website: https://aeonmall-tanphuceladon.com.vn/
– Fanpage: https://www.facebook.com/aeonmalltanphuceladon/
– Instagram: instagram.com/aeonmalltanphuceladon/
– Zalo: http://bit.ly/zalo_amtpc