Dear friends, download the AEONMALL Vietnam app (the favorite shopping mall is AEON MALL Tan Phu Celadon) and accumulate coins every time you make a cashless payment via POS Payoo, not only increases your chances of redeeming countless hot gifts such as CGV vouchers, McDonalds 50k, Bonchon 120k, etc., but also the opportunity to participate in extremely attractive activities every month.
Let's kick off this October with an exciting ball-drop game to win exciting gifts such as BNBG skin care masks, pretty makeup brushes, Amori premium water cups, etc. along with many other attractive gifts.
Event period: 01.10 ~ 31.10.2023
Location: AEONMALL Vietnam app download counter at gates C1, D, K – AEON MALL Tan Phu Celadon
Audience: Customers who have registered on the AEON MALL Vietnam app and choose their favorite shopping mall as AEON MALL Tan Phu Celadon
How to join:
Step 1: Loyal customers shop, pay cashless via Payoo and accumulate coins at stores applying the Program
Step 2: Go to the app download counter at gates C1, D, K and finish survey
Step 3: Join to drop the dice and receive gift.
Note:
Each customer can participate 1 time/month.
Only applied to member customers and participates in accumulating coins at least once a month and must finish the survey
Only applicable for customers who shop and accumulate coins during the day
Conditions apply according to the policy of shopping program to accumulate coins (AEON MALL Tan Phu Celadon)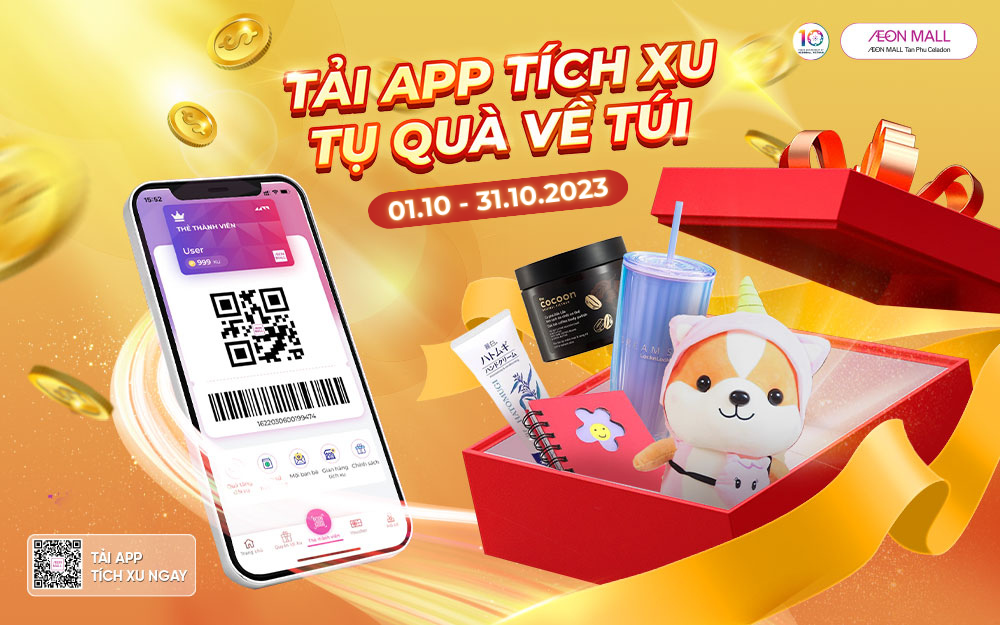 —————
App download link:
– iOS: http://bit.ly/AMTPCios
– Android: http://bit.ly/AMTPCandroid
—————
All only at AEON MALL Tan Phu Celadon – The ideal shopping and entertainment place
– Address: No. 30 Tan Thang, Son Ky Ward, Tan Phu District, Ho Chi Minh City
– Hotline: 028.62.88.77.33
– Website: https://aeonmall-tanphuceladon.com.vn/
– Fanpage: https://www.facebook.com/aeonmalltanphuceladon/
– Instagram: instagram.com/aeonmalltanphuceladon/
– Zalo: http://bit.ly/zalo_amtpc