Summer is coming, if you don't know where to spend this summer then, let's join AEON MALL Tan Phu Celadon on the Tieu Quy Adventure:
Tieu Quy is a sea-skinned turtle who belongs to the animals listed in the Vietnam Red Book. The adventure is the journey from birth to when can discover the beauty of the big ocean. On this journey, Tieu Quy will meet many new friends such as Sharks, Octopuses, Whales and many other friends from the ocean. In this journey, Tieu Quy and her friends will also have to face the appearance of a strange creature that is unprecedented in the ocean. This creature is dangerous to the ecosystem and your home. How should Tieu Quy and her friends handle it?
Come to AEON MALL Tan Phu Celadon now to join Tieu Quy's journey against strange creatures from 07/06 to 18/06/2023 – WEST COURT!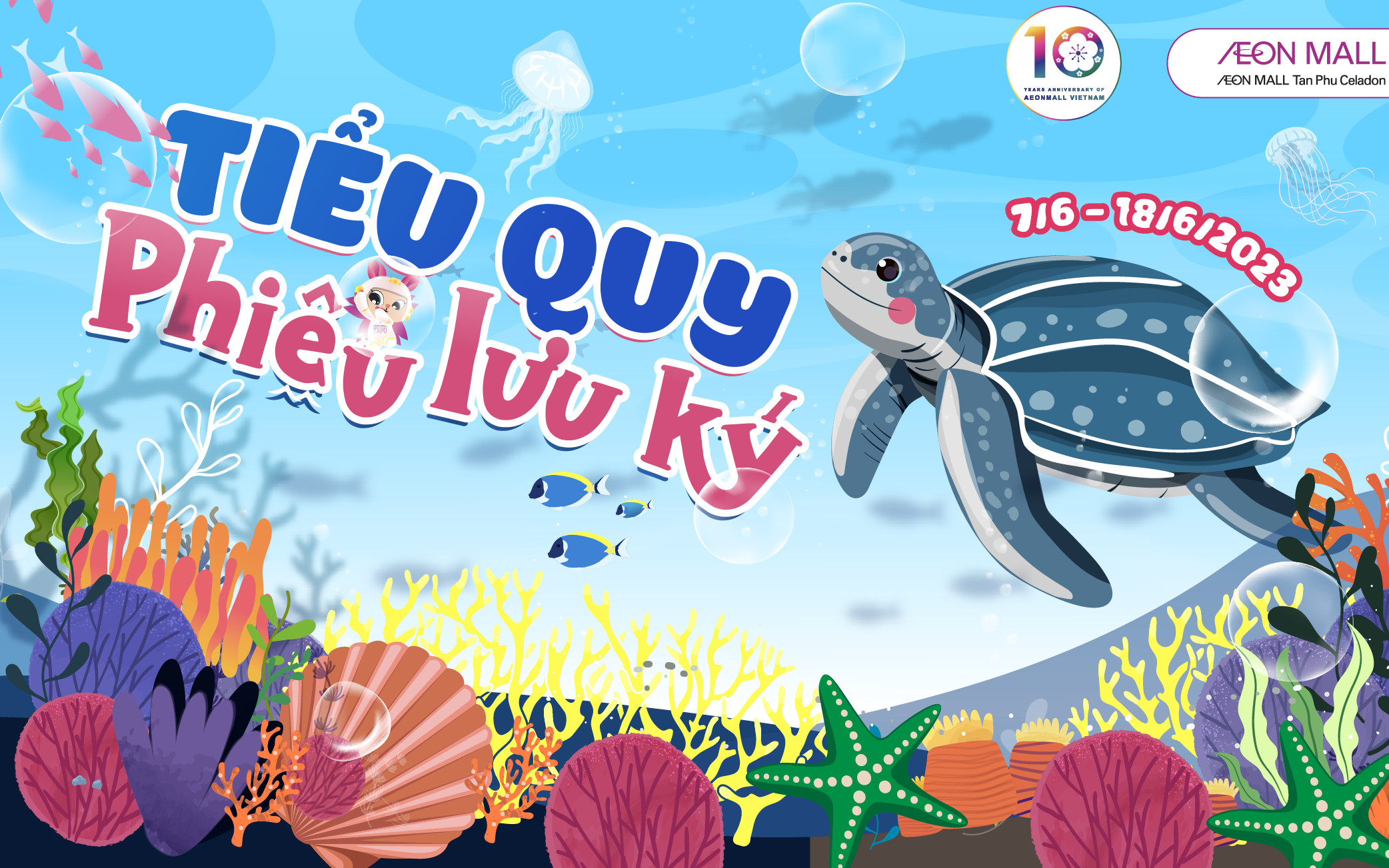 ACTIVITIES AT THE CAMPAIGN
GAME 1: Finding Tieu Quy:
Participants read the information at the "Welcome to the World" station to get a basic description of Tieu Quy. The player's task is to find little Tieu Quy who looks after thousands of friends at the station.
GAME 2: Polluted oceans:
In this game, you will enter the display matrix with items that pollute the ocean. Participants need to overcome the matrix and avoid obstacles.
GAME 3: Food or plastic:
Participants will help little Tieu Quy clean up the beach by fishing for trash. Sort waste into organic, recycled and non-recyclable. is approved when correctly classifying at least 3 types of garbage
GAME 4: Tieu Quy is here:
After collecting enough stamps by passing all the stations, you will show them to the staff at this station. Participants can stick their bottle cap (received at the check-in counter) on the picture and receive the final stamp before receiving a small gift from the organizers.
Just listening to it is so exciting and exciting, right, so don't miss the opportunity to join Tieu Quy ADVENTURE!
—————
App download link:
– iOS: http://bit.ly/AMTPCios
– Android: http://bit.ly/AMTPCandroid
—————
All only at AEON MALL Tan Phu Celadon – The ideal shopping and entertainment place
– Address: No. 30 Tan Thang, Son Ky Ward, Tan Phu District, Ho Chi Minh City
– Hotline: 028.62.88.77.33
– Website: https://aeonmall-tanphuceladon.com.vn/
– Fanpage: https://www.facebook.com/aeonmalltanphuceladon/
– Instagram: instagram.com/aeonmalltanphuceladon/
– Zalo: http://bit.ly/zalo_amtpc
– Tiktok: https://www.tiktok.com/@aeonmalltanphuceladon