Continuing the series of LOVE SEASONS, let's welcome the month of Love.
Many challenges and super interesting gifts for couples, ensuring "Love – adventure – chill"
Couple photo shoot at VP Booth (03/02 – 14/02/2023, GF)
Customers can participate in taking and printing instant photos at the VP Booth machine in just a few seconds in 2 ways.
– Free printing of 02 photos – For guests printing photos taken at the Love Paradise Chair: Just show the staff to check the photo with the appearance of the Love Paradise Chair, you will be completely free to print 02 photos.
– Redeem 5 cents to receive 02 photos – For customers who print personal photos (without Love Paradise Chair): Just open the AEON MALL Vietnam app, go to the "coin exchange" section, click "exchange voucher" to participate in photo printing right away.
Heart Grabber Room (03/02 – 14/02/2023, GF)
From February 3rd to 10th, customers can join the "Heart Grabber Room" to hunt for hundreds of lovely gifts: TAPU canvas bags, TAPU milk tea bears, cute socks. The way to participate is very simple:
1. Download app AEON MALL Vietnam
2. Go to "AEON MALL Style", select "Participate in Events"
3. Select Valentine's event and fill in the information.
4. The staff will check the validity and proceed to join the game!
Especially, from February 11st-14th, the gifts will become attractive with a series of super-hot gifts such as: movie tickets, keychains, TAPU bags, TAPU stuffed. All gifts will be given in pairs.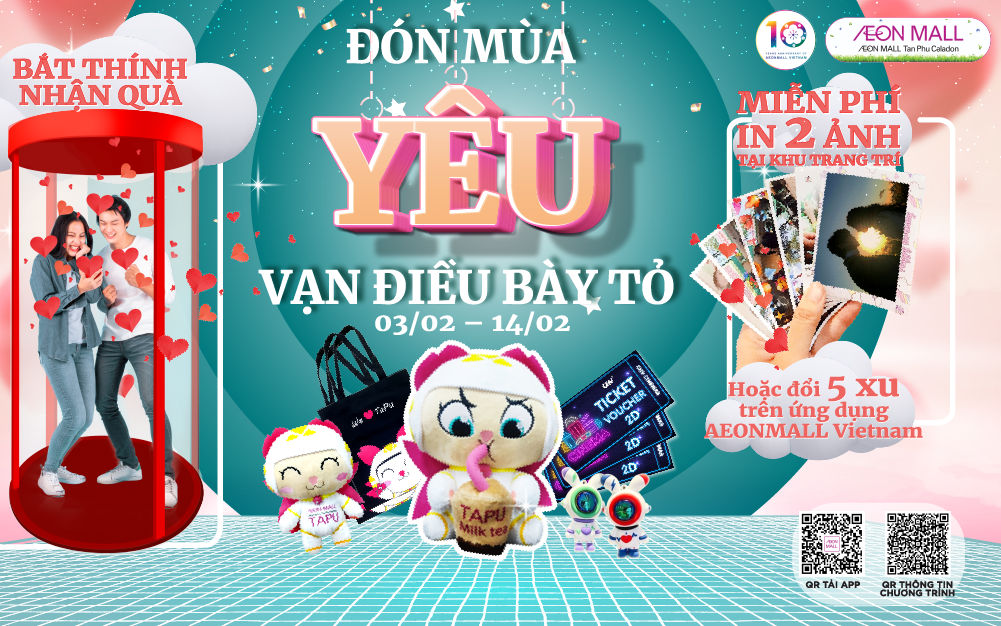 —————
App download link:
– iOS: http://bit.ly/AMTPCios
– Android: http://bit.ly/AMTPCandroid
—————
All only at AEON MALL Tan Phu Celadon – The ideal shopping and entertainment place
– Address: No. 30 Tan Thang, Son Ky Ward, Tan Phu District, Ho Chi Minh City
– Hotline: 028.62.88.77.33
– Website: https://aeonmall-tanphuceladon.com.vn/
– Fanpage: https://www.facebook.com/aeonmalltanphuceladon/
– Instagram: instagram.com/aeonmalltanphuceladon/
– Tiktok: https://www.tiktok.com/@aeonmalltanphuceladon