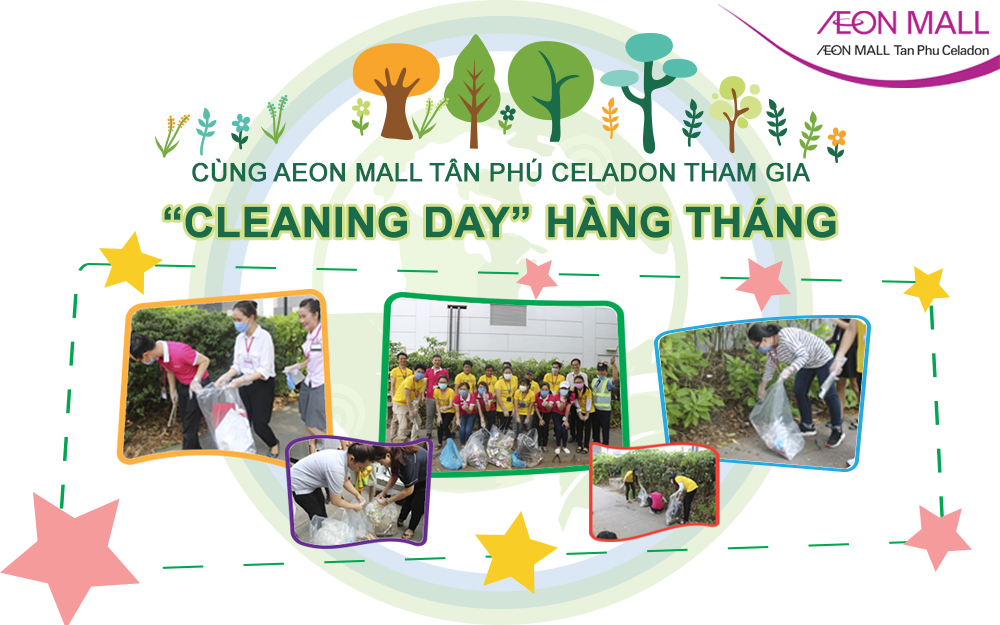 "Cleaning Day" is a monthly cleaning activity organized for all employees working at AEON MALL Tan Phu Celadon. This is one of the traditional activities held since 1991, with the goal of achieving AEON Group's aims of "Supporting local community growth".
On the occasion of each monthly Cleaning Day, our staffs will be divided into groups to collect of all the garbage outside the building and some nearby areas. After that, the waste will be sorted into suitable types and groups for treatment.
When participating in the monthly Cleaning Day, the staff will not only share hands to help their own working environment become cleaner, but also contribute to preserving the green urban landscape around the shopping mall area.
With the desire to spread the awareness of building and protecting the green – clean – beautiful environment, AEON MALL Tan Phu Celadon believes that, from these "small actions" today along with the contribution of everyone, we will be able to bring "a great meaning" to our own Earth.
We all hope that the spirit of monthly Cleaning Day at AEON MALL Tan Phu Celadon can inspire all customers, so that each person can build a sense of environmental protection by not littering or collecting garbage around their living area, etc. In addition, customers can fully join with AEON MALL Tan Phu Celadon on the monthly Cleaning Day by registering at ccsr@aeon.com.vn (no limit on the quantity of participants).
Let's change together for a cleaner and more beautiful environment for all of us!
#ChallengeForChange #Cungnhauthaydoi #AEONMALLTanPhuCeladon
Let's take a look at some beautiful images and moments of previous Cleaning Days at AEON MALL Tan Phu Celadon: